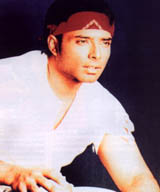 Uday Chopra
A.k.a / common misspelling: Udai Chopra
Official Web Site: http://www.udaychopra.com
IMDB page: http://www.imdb.com/name/nm0159167
Wikipedia page: http://en.wikipedia.org/wiki/Uday_Chopra
Occupation : Actor

Birth Date : 5 January 1973

Sign : Capricorn

Father : Yash Chopra

Siblings : brother Aditya Chopra

Marital status : single

Debut Film: Mohabbatein

Languages : hindi, english


Uday Chopra (born 5 January 1973) is an Indian Actor.
He is the son of Yash Chopra (legendary director and producer) and brother of Aditya Chopra (director of Dilwale Dulhania Le Jayenge and Mohabbatein). He has been assistant director on a number of his father's and brother's movies.
He made his debut under the Yash Raj films banner in Mohabbatein where he was directed by his brother. This film starred Amitabh Bachchan, Shah Rukh Khan Aishwarya Rai, and four other debutantes (Shamita Shetty, Jimmy Shergill, Preeti Jhangiani, Kim Sharma) and Jugal Hansraj. The film did well at the box office.
Uday has mostly done films under his father's production house. He had his first hit in 2004 with the action thriller Dhoom. Uday Chopra's height is 5'7.