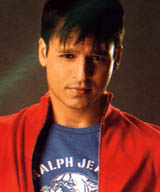 Vivek Oberoi
A.k.a / common misspelling: Viveek Oberoi
IMDB page: http://www.imdb.com/name/nm1059103
Wikipedia page: http://en.wikipedia.org/wiki/Vivek_Oberoi
Occupation : Actor

Birth Date : 3 September, 1976

Birth Place : Mumbai

Height : 6'

Eye Color : Black

Hair Color : Black

Religion : Hindu

Education : Mayo college in Ajmer, Masters Degree in film acting, New York

Marital Status : Single

Languages : Hindi, English

Father : Suresh Oberoi

Mother : Yashodhara

Debut Film : Company


Son of veteran actor Suresh Oberoi was born on September 3, 1976. Vivek Oberoi was the most talked about lad in town long before Company released. The media went berserk describing his straight hair, sparkling eyes, handsome body and what not. What's more he chose to make an unusual debut. Ramgopal Varma's Company was not the typical Hindi film. And Vivek was not playing a hero, he was Chandu the dreaded underworld don. The film focussed on international organised crime giving the heroes Ajay Devgan and Vivek Oberoi enough platform to prove their histrionics as actors.
Vivek has adopted the Aamir Khan strategy where he would do just a few quality films at a time. So far the strategy has proven quite beneficial to him personaly although he still has to deliver his universal 'solo' hit!
For his first film, Ram Gopal Varma's Company (2003), Vivek Oberoi won the "best debut actor award" and also won "best supporting actor". He was pitted against Bollywood star Ajay Devgan and Malayalam superstar Mohanlal. His few other films had also done well and his performance was excellent. Saathiya (2003) was also a great success.
Dum and Darna Mana Hai did not do well for him. While shooting for Yuva he had gone through fracture. He also had problem with lungs and subsequently, breathing. There was a possibility that he would die. It was given one in four chance to survive. But brilliance of the doctors that saved his life.
Vivek has also got an international offer "Invaders". Film Masti is already released, its a fun filled comedy about three married couples who into trouble with their wives. He is also in Mani Ratnam's Yuva, with Abhishek and Ajay Devgan. And Samir Karnik Kyon ho Gaya Na with Aishwarya Rai. And finally Subhash Ghai's Kisna. The comic film Masti (2004) was also successful and so was Kaal (2005). He was also a part of Mani Ratnam's stage show, Netru, Indru, Naalai.