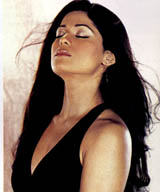 Shamita Shetty
A.k.a / common misspelling: samita Shetty
IMDB page: http://www.imdb.com/name/nm0792906
Wikipedia page: http://en.wikipedia.org/wiki/Shamita_Shetty
Occupation : Actress

Birth Date: 2 February, 1979

Hair Color: Black

Marital Status: Single

Languages: Hindi, English

Hobbies: Volley ball


Shamita Shetty is the sister of Shilpa Shetty who is the bollywood actress.
She made her debut with the 2000 blockbuster Mohabbatein. The film was based on the love stories of six youths who find their guide in the form of Shah Rukh Khan. The film also starred Amitabh Bachchan, who played a sort of non-believer of love. The film was a hit but it was mainly focused on the two main characters of the film (Khan and Bachchan). However the film had established her in the industry.
She went on to do many item numbers, such as the huge hit "Sharara" in Mere Yaar Ki Shaadi Hai. She then began to get roles which would showcase her acting ability, such as Wajahh: A Reason to Kill and Bewafaa in which she played a negative role. Her best performance has been in the 2005 hit Zeher, further enhancing her in Bollywood. She went on to star in the film Fareb with her sister, which was received averagely in India.
Shamita dropped out from Sydenham College in Mumbai in the 11th standard. She completed a diploma course in Fashion Design from SNDT.