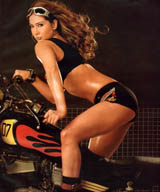 Kim Sharma
A.k.a / common misspelling: Kiim Sharma
IMDB page: http://www.imdb.com/name/nm0788881
Wikipedia page: http://en.wikipedia.org/wiki/Kim_Sharma
Occupation : Actress, Model

Birth Date : 21 January, 1980

Birth Place : Ahmednagar

Hair Color : Black

Marital Status : Single

Languages : Hindi, English

Ex-boyfriend: Jugal Hansraj

Boyfriend: Yuvraj Singh

Debut Film : Mohabbatein
Kim was born on January 21st 1980. She was born in Ahmednagar and did her schooling from a boarding school in Panchgani. After that she returned to her hometown and joined a junior college but hated her college.
On a trip to Mumbai, she went through an audition for Close-Up toothpaste and was selected. After the Close-Up commercial, many others followed like Sunsilk, Pepsi, Tata Safari, Ponds, Fair & Lovely, Clean-n-Clear and Liril. Modelling was not the only thing Kim indulged in. She also tried her hand at music videos like Lata Mangeshkar's 'Paayoji' and Ali Haider's 'Purani Jeans'.
Her debut film was Aditya Chopra's Mohabbatein with multi star cast. Mohabbatein happened and changed the course of her life. Before they started shooting for Mohabbatein, the three young couples in the film had to go through a two-week workshop with Barry John in Delhi.. After that she had to attend dance classes as well. With the release and subsequent success of her first film, Kim has been saying no to all her modeling assignments.
These days the hottest news is Kim Shrama is going around with Yuvraj singh. Couple itself is willing to bid their time, concentrating on their careers and taking it easy. But the intensions are clear. Its an enduring test of love.