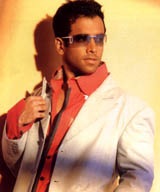 Tushar Kapoor
A.k.a / common misspelling: Tusshar Kapoor
IMDB page: http://www.imdb.com/name/nm0969428
Occupation : Actor

Birth Date : 20 November, 1976

Birth Place : India

Zodiac Sign : Scorpio

Eye Color : Black

Hair Color : Black

Religion : Hindu

Education : He has done graduation in liberal arts and masters in business administration, University of Michig

Marital Status : Single

Languages : Hindi, English

Mother's Name : Shobha Kapoor

Sister(s) : Ekta Kapoor

Debut Film : Mujhe Kucch Kehna Hai


Tusshar Kapoor (born 20 November 1976) is an Indian actor. He is the son of Bollywood actor Jeetendra and brother of Ekta Kapoor. He studied at the University of Michigan.
His debut film was Mujhe Kuch Khena Hai with Kareena Kapoor.Kuch Tu Hai and Kya Dil Ne Kaha both films were his home production Balaji. In 2003 Khakee was released with other superstar. Film goes average and people aapreciated his work in it.
He performed in Shart opposite Gracy singh and Amrita Arora It's a triangular romantic film. Then Ram Gopal Verma's Gaayab opposite Antara Mali. Its a science fiction film. His few more films are their which are again Balaji Productionand will be shortly directed by Satish Kaushik and Raj kumar Santoshi.
In 2005, he delivered a hit with Kyaa Kool Hai Hum, then another hit in 2006 with Golmaal.
Tushar enjoys his work, life and people .He is go o movies and party hard. He feels its better to stay single and enjoy life. Love has its ups and downs and he dont want heartbreaks.