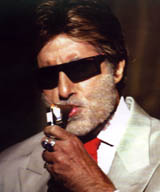 Amitabh Bachchan
A.k.a / common misspelling: Amitabh Bacchan
IMDB page: http://www.imdb.com/name/nm0000821
Wikipedia page: http://en.wikipedia.org/wiki/Amitabh_Bachchan
Occupation : Actor

Birth Date : 11 October 1942

Birth Place : Allahabad, India

Height :6' 2"

Debut Film : Saat Hindustani (1969)

Address : Pratiksha, 10th Road, JVPD Scheme, Mumbai 400 049


Amitabh Bachchan still strike the gold at the box office with the success of Baghban the senior superstar has made a statement against ageism in the industry. In 2003 he lined up more projects, more varied roles, more endorsements than any other younger actors. He lined up with Khakee, Aetbaar and Lakshya. As more successful he gets more self deprecating he is becomes. He likes to knock his acting, downplay his formidable connections. But his influence inside and outside the industry grows. The aura for him gets bigger. At the age of 61 when youngsters do one movie at a time he zips from one set to another. He takes risks whether it is sporting over the Top Wigs, freaking out in Funky Videos or playing the Dour Patriarch and all too stylish.
Amitabh Bachchan is in popular parlance, the king of Indian cinema was born on October 11, 1942 in Allahabad, Uttar Pradesh, India . Son of well known poet Harivansh Rai Bachchan and Teji Bachchan. He went to Sherwood College, a boarding school in the hill-station town of Nainital, and from there to Delhi University where he earned a double MA degree.
He was a former stage actor, radio announcer and freight company executive in Calcutta, India.When he was just trying to get a break in movies he was told to soften his 'deep' voice. However it was soon realised that his deep rich voice was excellent for narration. He has provided narrations for several films.Married to Jaya Bhaduri, a well known actress, he has two kids, Shweta and Abhishek. His first movie was Saat Hindustani (1969). He came to be known as 'The Angry Young Man' after his film Zanjeer (1973), which made him a superstar. He also ran for seat in the Congress from his hometown but had to leave midterm because of controversies.
While shooting for Coolie (1983) he received a near fatal injury. He was hospitalised and the Indian press issued daily bulletins on his health. He is highest paid Bollywood actor in the film industry.
Amitabh had a very close association with the former Indian Prime Minister Indira Gandhi and her son Rajiv Gandhi (also Prime Minister) and he was elected to parliament with a huge majority from his home town of Allahabad. But in politics he did not last long and was implicated in the infamous Swedish Bofors Gun deal scandal along with Rajiv Gandhi and others.
He launched a multi-faceted commercial enterprise known simply as Amitabh Bachchan Corporation Limited, or ABCL. ABCL is engaged in production, distribution and all other aspects of the movie industry.
He was considered finished in the late nineties after super star status for 20 years a string of flops and failed political and business ambitions. He faced major health problems and financial crisis. But his unexpected comeback as host of the popular TV quiz series 'Kaun Banega Crorepati' version of Who Wants to be a Millionaire which put him right back on the number one spot of Bollywood actors over 40 reaffirming his reputation as the living legend of Indian cinema with a new series of high profile films Mohabbatein (2000), Kabhi Khushi Kabhie Gham (2001) etc.
He is announced as an actor of the Millennium in a BBC News Poll ahead of such luminaries as Charlie Chaplin, Sir Lawrence Olivier, and Marlon Brando. He is the first Asian actor having a wax model of his likeness displayed at Madame Tussaud's in London.
During the late 1980s, after his brief stint in politics, Bachchan's films became less successful. Many films did very poorly, such as Jaadugar and Toofan, both from 1989. In the early 1990s he regained some success in Hum (1991) which was a huge hit due to the film's use of a popular song Jumma Chumma. However, after more flops at the box office, he took a break from the film industry in 1992, his last film being Khuda Gawah, released that same year.
He returned to films in 1997, but for a year or so, hits still eluded him. His first comeback vehicle, Mrityudaata produced by his own production company ABCL, was a box-office disaster. Subsequent films, such as Major Saab (1997), Sooryavansham (1999), and Lal Baadshah (1999) also failed at the box office. Critics complained that Bachchan was still playing the "angry young man" even though he was in his mid-fifties. He was also deeply in debt as a result of the failures of the films produced by his company ABCL.
The first two of his comeback films to succeed were the 1998 comedy Bade Miyan Chote Miyan in which he starred with Govinda, and 2000's Mohabbatein, which co-starred Shah Rukh Khan.
Amitabh Bachchan's return as a superstarBachchan then accepted an television offer to host an Indian version of the popular British game show, Who Wants to Be a Millionaire?, or Kaun Banega Crorepati? The show was a hit, to the point that the Theatre Owner's Association president requested it be aired in the morning, as it was seriously cutting into theatre attendance on the four nights per week it was aired.[3]
Two films that followed, in which he appeared as a stern patriarch, Ek Rishta (2001) and Kabhi Khushi Kabhie Gham (2001), were both box office hits: Bachchan was said to have regained his old magic.
He has since appeared in a number of films each year, sometimes in unconventional or supporting roles. He has been praised for his performances in films such as Aks (2001), Aankhen (2002), Baghban (2003), Khakee (2004) and Dev.
In 2005, he appeared in the film Black, in which he played the driven, eccentric alcoholic teacher of a deaf and blind student played by Rani Mukerji. In the same year he co-starred for the first time with his son Abhishek in the comedy Bunty Aur Babli and the Godfather-esque crime drama Sarkar both of which were hits at the box office. He once again appears with Abhishek, playing a sex-obsessed father in the newly-released Kabhi Alvida Na Kehna (2006).
He will also appear in his first Tamil film Sivaji: The Boss in a guest role. The film stars Rajinikanth and will be directed by S. Shankar. Amitabh has been chosen after attempts of asking many other south Indian film stars for the role in the film.