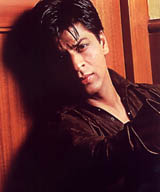 Shahrukh Khan
A.k.a / common misspelling: Sharukh Khan
IMDB page: http://www.imdb.com/name/nm0451321
Wikipedia page: http://en.wikipedia.org//wiki/Shahrukh_Khan
Occupation : Actor

Birth Date : 2 November, 1965

Birth Place : New Delhi, India

Religion : Islam (Muslim)

Marital Status : Married

Wife : Gauri Chibber/Khan who graduated from Modern school, Barakhamba Road, New Delhi.

Son : Aryan.

Father : Taj Khan-Died 1981 with cancer

Mother : Died 1991 while Shah Rukh had gone out to get her medicine.

Sister : Shehnaz Lalarukh

Address : 603, Amrit Bandra(west), Mumbai 400050, INDIA


Shahrukh Khan the most saleable actor in the business today. Crazy fans or canny distributor. His name is the guarantee. He hedges his bets by working only with best banners and top heroines. But the flip side is that he's also willing to take risk for friends. Aditya Chopra And Karan Johar were untested entities when he signed on for Dilwale Dulhania Le Jayenge and Kuch Kuch Hota Hai. Farah Khan directing his upcoming home production film Main Hoon Na is a first timer too.
Shahrukh Khan was born on 2nd november 1965. He was brought up in Delhi. He had done his schooling from 'St. Columba's school' and from 'Jamia Millia Islamia' he had done Mass Communication.
Shah Rukh Khan started his career appearing on various television series, particularly when playing the role of 'Abhimanyu' in the war drama series Fauji (Soldier) in 1988, a minor role in Circus in 1989, which depicted the life of circus performers etc. The acting stint in Fauji caught the attention of Hema Malini who is said to have recommended his name for his film debut in Dil Aashna Hai which was to be directed by Malini. However his debut film was the 1992 film Deewana which was a big hit. The same year he appeared in films such as Chamatkar and the controversial art film Maya Memsaab. This film was very controversial because it had an "explicit for Bollywood" sex scene between Khan and actress Deepa Sahi.
In 1993 he attracted a great deal of attention when he was praised for his performances in two negative roles in Baazigar (as an anti-hero and murderer) and Darr (as an obsessed lover) which became huge hits at the box office and shot him to stardom. 1995 was a very successful year for Khan. Dilwale Dulhania Le Jayenge (DDLJ) broke box office records and Khan, as the lead, was given a great deal of credit for its success.
DDLJ was followed by a string of successes, most of them love stories, which included Pardes, Dil to Pagal Hai, Kuch Kuch Hota Hai, Mohabbatein, Kabhi Khushi Kabhie Gham, Devdas, Kal Ho Naa Ho,Veer-Zaara and has recently released [[Kabhi Alvida Na Kehna and don].
Shah Rukh Khan also won critical praise for his performances in Anjaam, Dil Se and Swades which were less successful at the box office.
As Raj in Dilwale Dulhania Le Jayenge (1995)Success followed him with director/producer Yash Chopra: Darr, Dil To Pagal Hai, Mohabbatein and Veer-Zaara. He found greater success working with his close friend and director Karan Johar and producer Yash Johar on Kuch Kuch Hota Hai, Kabhi Khushi Kabhie Gham, Kal Ho Naa Ho and Kabhi Alvida Naa Kehna.
Shahrukh is known as a convincing screen lover, and seems to spark equally good performances from his female co-stars - in cinema-speak, he has good screen chemistry with his heroines.
Despite his success, some have criticized Shah Rukh for sticking to "safe" romantic roles (such as his roles in Karan Johar's or Yash Chopra's films). With Swades and Paheli, Khan took a different take on roles. Unfortunately Swades and Paheli didn't do very well at the box office compared to Khan's other films.
Khan co-owns a production company called Dreamz Unlimited with actress Juhi Chawla (a friend ever since they co-starred in Raju Ban Gaya Gentleman) and film director Aziz Mirza. The production company has produced three of his films, Phir Bhi Dil Hai Hindustani, Asoka and Chalte Chalte. With the exception of Chalte Chalte which was a hit, the other two flopped at the box office. In 2004 another of his production houses, Red Chilies Entertainment, produced film Main Hoon Na which was his second hit under his own production house. He also co-produced the horror film Kaal in 2005 with Karan Johar. He then produced Paheli, which was India's selection for the Academy awards consideration in the foreign films category.
Nasreen Munni, the noted British filmmaker, recently produced a two-part documentary on Shah Rukh, "The Inner and Outer World of Shah Rukh Khan". Featuring his 2004 Temptations concert tour, the film contrasts Khan's "inner world" of family and daily life, with the "outer world" of his work.
While studying he fell in love with Gauri Chibba who was then studying in Loreto Delhi. He later married her before coming into films. The most talented and hard working actor known to have an inflated ego, for which he works hard to keep it floating. He is having two children a son "Aryaan" and a daughter. He loves his children very much.These day he had started reading books on science as he dont want to be sound like a stupid dad, when they'll ask him which is bigger, Uranus or Saturn. He teaches them one new thing everyday. it could be names of Fidel Castro, Michael Schumacher, Osama Bin Laden or a place a name. He is planning to read maths in another two/three years.
He feels for the younger generation that should follow his zest for life and love of doing the best they can. They should believes that there is a purpose in life that you supposed to fulfill follows it wholeheartedly. And never give up when you stumble and not taken seriously.