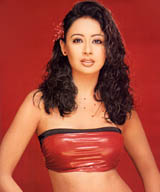 Preeti Jhangiani
A.k.a / common misspelling: Preeti Jhingiani
IMDB page: http://www.imdb.com/name/nm0422566
Wikipedia page: http://en.wikipedia.org/wiki/Preeti_Jhangiani
Occupation : Actress, Model

Birth Date : 18th August 1980

Debut Film : Mohabbatein

Address : 17 Seamist, 14 Pali Road, Opp. Music Cafe , Bandra , Mumbai-400050


Model turned actress, Preeti Jhangiani was born on 18th August 1980.When she first made her entry into the world of greasepaint, as the wispy chhui mui girl in a music video, everyone whispered, "Who's that girl?" And when she made it to the list of three newcomers to be introduced in the eternal romantic Yash Chopra's star bonanza, Mohobbatein, cine-goers knew that Preeti Jhangiani had arrived. Out of the three girls who debuted in the film, Preeti, as critics and audiences professed, gained most out of the mileage. Her goody-two-shoes image, her delicate profile, Preeti seemed to fit hand-in-glove for the role of most conventional Hindi films. Soon, producers started queuing outside her house with scripts and signing amounts.
And predictably, within a couple of months, Preeti had signed over twelve films. Much would have been expected to happen in this stunner's life. And much indeed did happen. Like a whip of rotten luck, she fell ill, the after effects of which turned the course of her life. The strong antibiotics she consumed left rather harsh effects of her angelic visage. One of the reasons being weight fluctuations. And almost overnight, the films disappeared. Such is the fickleness of fame and fortune.
But Preeti didn't lose heart. She stayed put and did the best she could to sustain the career that had fallen into the eye of a hurricane. Meanwhile, Feroz Nadiadwala's Awara Paagal Deewana happened. The colossal hit came with the promise of sunshine, but proved to be a fluke.
From film sources are to be believed, Preeti is all set to tie the nuptial knot with (Feroz Nadiadwala's younger brother) Mustaq. Preeti Jhangiani's hobbies are watching romantic movies, web browsing and listening music.