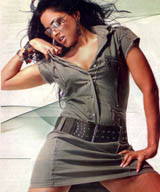 Sameera Reddy
A.k.a / common misspelling: Samera Reddy
Wikipedia page: http://en.wikipedia.org/wiki/Sameera_Reddy
Occupation : Actress

Hair Color: Black

Education: Rani Birla College at Calcutta

Marital Status: Single

Languages: Hindi, English

Hobbies: Swimming

Sister(s): Sushma

Ex-boyfriend : NTR Junior

Debut Film: Maine Dil Tujhko Diya


Sameera Reddy first came to notice in the music video 'Ahista' by Pankaj Udhaas and then start modelling. She has done modelling for 'Lissome'. Presently she has left modelling completely and concentrating on acting.
Sameera's debut film was opposite Salmanís younger brother Sohail Khan in Maine Dil Tujhko Diya. In film she is playing a shy and introvert girl whose overprotective father keeps her distanced from the outside world for the fear of losing her. Her world is thrown upside down when she befriends and falls in love with a guy in her college.
Sameera has named as Mumbaiís Jennifer Lopez by her director Sanjay Gupta. Sameera Reddy has come a long way from the simple actress in her debut film to become the latest sex symbol of the Hindi film industry. She had a hot number in Darna Mana Hai and this time can be seen sizzling on the beach with Dino Morea in a song in Plan.Plan also stars Sanjay Dutt, Priyanka Chopra, Sanjay Suri, Bikram Saluja, Rohit Roy, Riya Sen, Payal Rohatgi and Sanjay Mishra and is directed by Hriday Shetty.
Sameera is in Sanjay Gupta's Musafir with senior stars Sunil Shetty ,Anil Kapoor, Sanjay Dutt and Mahesh Manjrekar. In this movie she is playing the wanton wife of 45-year-old Sanjay Dutt.
Sameera finds older stars in Bollywood hotter than most newcomers, says from the experience of working in Musafir and has learned a good amount from the experiences of her senior co-stars. Sameera insists that the whole concept in Musafir is much beyond the physical aspect.
Her elder sister, Sushma Reddy made her acting debut with the film Chocolate. Her other elder sister is Meghna Reddy.
She made a guest appearance on the British show Casualty.