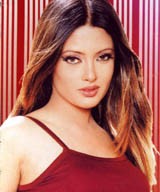 Riya Sen
A.k.a / common misspelling: Ria Sen
IMDB page: http://www.imdb.com/name/nm1116258
Wikipedia page: http://en.wikipedia.org/wiki/Riya_Sen
Occupation : Actress

Birth Date : 24 January, 1981

Birth Place : India

Zodiac Sign : Aquarius

Height : 5' 1

Hair Color : Black

Marital Status : Single

Languages : Hindi, English

Mother's Name : actress Moon Moon Sen

Sister(s) : Raima Sen

Ex- boyfriend : John Abraham

Debut Film : Love You Hamesha

Address : 62-B Ruia Park, Juhu, Mumbai 400 049


The 5'1" tall, budding actress, Riya Sen is a grand daughter of legendary film actress Suchitra Sen and daughter of Moon Moon Sen. She lives with her mother and sister Raima Sen.
She wishes to spend her time with Mom, Dad, Raima and her grandmother. Before come into the modelling, She studied in Rani Birla College at Calcutta. First offer for her film is Kailash Surendranath's Love You Hamesha. Her ideal men among actors are Keanu Reeves, Salman Khan and Shahrukh Khan.
Riya Sen is the grand daughter of Suchitra Sen, a legend in Bengali cinema, and daughter of Moonmoon Sen, an actress from 1980s known for her image as a sex symbol. She lives with her mother and sister Raima Sen, also an actress, in Kolkata. Her father Bharat Dev Varma belongs to the illustrious royal family of Tripura. Her paternal grandmother Ila Devi, was the princess of Cooch Behar, whose younger sister Gayatri Devi is the Maharani of Jaipur.
Before entering show business, she studied at Loreto House and Rani Birla College, both in Kolkata, but dropped out of both institutions. She also briefly studied at the National Institute of Fashion Technology. Since her Bollywood debut, she has moved from Kolkata to Juhu in Mumbai.
While in Mumbai she had a relationship with male model and actor John Abraham. After breaking up with him, she started a relationship with actor Ashmit Patel. She also briefly dated actor Akshaye Khanna.
Many have commented on the strong resemblence between her and her mother, Moonmoon Sen. Both were perceived as sex symbols in their time, both have worked in films in different languages, and both were involved in numerous scandals. Her sister, Raima Sen, has a very different image from them both, however.
Riya Sen first appeared as a child artiste in the film Vishkanya, where she played the role of the young Pooja Bedi. At the age of 15 she was cast in a major role in Bharathiraaja's Tamil film Tajmahal. Her Hindi film debut was supposed to have been in Love You Hamesha, opposite Akshaye Khanna, but the film was stalled and she ultimately made her debut in N. Chandra's low-budget comedy Style.
Though Style met with success at the box office, most of her other films have not done as well. An exception was Jhankaar Beats, another comedy in which she co-starred with Shayan Munshi, Juhi Chawla, Rahul Bose, Rinke Khanna and Sanjay Suri. Most of her appearances have been restricted to item numbers and cameos. The few times she has been cast in the leading role, have been in low-budget films
Apart from Hindi, Riya has also appeared in films made not only in her native language Bengali, but also Tamil, Telegu, Malayalam and even English. She was slated to appear in Anjan Dutta's The Bong Connection, alongside her sister, but was eventually dropped from the project, and replaced by Peeya Rai Chaudhary. It would have been the second time the two sisters acted together, after director Ajai Sinha's The Bachelor. Riya has also shared screen space with her mother in director Subrat Sen's Neel Nirjone. She has also reportedly working on a Bangladeshi film, titled Money Porey Thomakey. Her most notable South Indian film to date has been director Santhosh Sivan's Ananthabhadram, a Malayam film made in Kerala.
Riya gained a great deal of popularity when she appeared in numerous music videos for songs by popular musicians, including Asha Bhonsle, Falguni Pathak, Jagjit Singh and Sonu Nigam.
She is also a successful model, having appeared in advertising campaigns for companies like Colgate, Limca, Dabur and Cadbury's. The high point of her modelling career was when she replaced Lisa Ray as the Lakmé Girl. She herself has since been replaced by Yana Gupta.
Shortly before the release her film Silsiilay in which she starred alongside boyfriend Ashmit Patel, a clip was circulated through Multimedia Messaging Services and the Internet, that showed the two having sex and kissing. This was one of a number of such scandals that erupted where celebrities were caught in compromising situations through cameraphones.