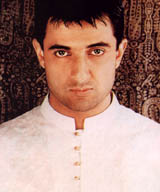 Sanjay Suri
A.k.a / common misspelling: Sanjaiy Soori
Official Web Site: http://www.sanjaysuri.com
IMDB page: http://www.imdb.com/name/nm0839634
Wikipedia page: http://en.wikipedia.org/wiki/Sanjay_Suri
Occupation : Actor, Model

Birth Date : 6 April

Birth Place : Srinagar


Sanjay Suri is a Bollywood actor who made his debut in 1999 with Pyaar Mein Kabhi Kabhi. He went on to star in many supporting roles but finally got his big break with Jhankaar Beats in 2003, where audiences started to recognize him as a seasoned actor.
Sanjay Suri was born on April 6th (year not known), in Srinagar, Kashmir, where he spent 19 years of his life. He is the youngest of three siblings, having an older brother and sister. Living in Srinagar he devenloped a strong love for nature and the outdoors. As a child Sanjay was a star squash player and was on his school and state team.
When Sanjay moved to New Delhi in 1990, he was thrust into the world of modelling. He modelled for a large number of companies including Gillette, Nilkamal Furniture, Times of India, and Philishave.
1999 witnessed Sanjay's breakthrough in Bollywood with a supporting role in the movie Pyaar Mein Kabhi Kabhi, co-starring Rinke Khanna and Dino MoreaAlthough the movie flopped, Sanjay was noticed. With his next films, Daman, Filhaal, and the musical Dil Vil Pyaar Vyar Sanjay proved his mettle as a fine actor. In Pinjar co-starring Urmila Matondnakar he got rave reviews but it wasn't until Jhankaar Beats later that year that he became popular. His role alongside Juhi Chawla was greatly appreciated in a truly unique film. Slowly he got more roles in movies but his movies flopped continuously. Despite the failure of his films, his performances continued to be appreciated.
In 2005 he proved all his detractors wrong when he delivered a knockout performance in My Brother...Nikhil, as a homosexual AIDS victim, once again co-starring Juhi Chawla. The movie received unanimous praise among Indian film critics. The movie fared decently in Mumbai but was a flop elsewhere in India. He will next be seen in Bas Ek Pal, directed by Onir, the same director of My Brother...Nikhil.