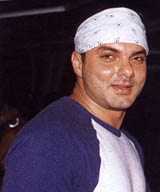 Sohail Khan
A.k.a / common misspelling: Sohal Khan
IMDB page: http://www.imdb.com/name/nm0451326
Wikipedia page: http://en.wikipedia.org/wiki/Sohail_Khan
Occupation : Actor, Director

Birth date : December 20

Sign : Saggi

Mother : Salma Khan

Father : Salim Khan

Siblings : brothers Arbaaz Khan and Salman Khan, sisters Alvira Khan and Arpita Khan

Children : son Nirvaan Khan

Marital status : married

Spouse : Seema Sachdev

Debut Film :Maine Dil Tujhko Diya

Languages : hindi, english


Sohail Khan was born on December 20, is Indian Bollywood actor and Director. He is the younger brother of Salman Khan.
Sohail Khan was born into a family with strong ties to the Bollywood film industry: His father is Salim Khan, a successful screenwriter and his mother is Salma Khan, while his step-mother is dancer and Bollywood actress Helen. His older brothers are actors Arbaaz Khan and Salman Khan. His sister Alvira Khan is married to Bollywood actor Atul Agnihotri, while his younger sister Arpita Khan "discovered" Sneha Ullal for his movie Lucky: No Time for Love, which he produced with his production company "Sohail Khan Production". He is married to Seema Sajdeh (who dumped fiancÚ Vikram Ahuja, brother of Tanya Ahuja and brother-in-law of Bobby Deol) and has one son Nirvaan Khan, born on December 20, 2000. Sohail Khan's height is 5'8.
In 2005, he was in the media for "beating up" Sikander Kher, Anupam Kher's son. According to an interview he did, he was "surprised to read about it and so was Sikander".