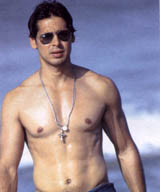 Dino Morea
A.k.a / common misspelling: Dino Moria
IMDB page: http://www.imdb.com/name/nm0603352
Wikipedia page: http://en.wikipedia.org/wiki/Dino_Morea
Occupation : Actor, Model

Birth Date : 9th December 1975

Height: 6'0"

Star Sign : Saggitarius

Titles won : Gladrags Supermodel 99

Eyes: Brown

Hair: Black

Languages known : Italian, Hindi, English

Debut Film : Pyar Mein Khabhi Khabhi


Dino Morea, Gladrags Supermodel of 1999, who turned an actor. He is 6'0" tall and was born on 9th December 1975. Born to an Italian father and Indian mother. He finished his schooling from Bangalore Army School and Clarence School. And college from St Joseph's Bangalore.
Prasad Bidappa introduced him to modeling. His die-hard looks and cute smile are still a hot assets on the ramp. This new generation bollywood actor also featured in music videos including those of 'Alisha' and 'Abhijeet'.
An unsuccessful debut as an actor in Pyar Mein Kabhi Kabhi has not noticeably diminished his popularity. Then Raaz in 2002 came opposite Bipasha Basu which was a romantic thriller. The movie was a hit and its songs are still listen. After that Baaz came, it was also thriller one but couldn't bring audience in theatre. Ishq Hain Tumse again with Bipasha Basu released in 2003, but couldn't gather audience.
This handsome hunk makes, women slave over his cute dimples and wonderful body. His relationship with Bipasha Basu remained not for long time.