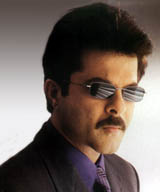 Anil Kapoor
A.k.a / common misspelling: Anil Kapur
IMDB page: http://www.imdb.com/name/nm0438463
Wikipedia page: http://en.wikipedia.org/wiki/Anil_Kapoor
Occupation : Actor

Birth Date : 24th December, 1959

Sign : Capricorn

Height : 5'11" or 1.80 m

Weight : 165 lbs

City : Chembur, Maharashtra

Country : India

Mother : Nirmal (Suchitra)

Father : Surinder Kapoor

Siblings : brothers Sanjay Kapoor and Boney Kapoor and sister Reena

Daughters : Sonam and Rhea

son : Harshwardhana

Marital status : married

Spouse : Sunita Bhambhani

Education: St.Xaviers College

Favourite drink : Water

Favourite book: Ayn Randís Fountainhead

Debut Film: Woh Saat Din

Languages: hindi, english

Address :31 Shringar ,Presidency Society, 7th Road, JVPD Scheme, Mumbai 400 049


Anil Kapoor one of the top ten heroes of the Bollywood was born on 24 December 1959 Chembur Maharashtra India. His family somehow belongs to the 'KAPOOR' dynasty as Anil Kapoor's dad and Raj Kapoor's dad Prithviraj Kapoor are cousins in relation.
The debut film of Anil was Woh Saat Din. His films Andhar Baahar, Maashal and Shakti did pretty well at the box office as anil co-starred with Dilip Kumar, Jackie Shroff and Amitabh Bachchan respectively. Anil actually got a chance to prove his skill when 'Subhash Ghai', one of the Hollywood's pride, offered him Karma in which Anil's performance won the applause of the industry as well as in Ram Lakhan in which he could dance stunningly to the tunes.
Anil Kapoor enjoys the hi-fi stage as far as his filmi career is concerned but throughout he worked hard to achieve this place that he is now in and his Viraasat won him Videocon Screen Award in the best actor category in '97. And he got Critics Award for "Viraasat" in '97 from FILMFARE. Anil's Award Gallery includes 'Best Supporting Actor' for Maashal in '84, 'Best Actor' for Mr. India in '88, Tezaab in '89, Beta in '93 from Filmfare. He acheived National Award 2001 for his performance in Pukar (2000).
Anil Kapoor apart from his most successful profession that keeps him busy with sort of a tight schedule, is a family man. He got married to his dressdesigner Sunita who owns an integrated dance and exercise academy in Juhu. It's one of the best 'Aerobic Gyms' in bombay. Anil's got two daughters 'Sonam' and 'Rhea' and one son 'Harshavardhan'.
After a period of little success, 2004 saw Anil give a long-awaited hit in Musafir, where he wore a complete new get-up. He followed this with three more films in 2005, Chocolate, My Wife's Murder and No Entry. No Entry was Anil Kapoor's only hit in 2005.
He has often been associated with 3 successful pairings Jackie Shroff, Sridevi and Madhuri Dixit over the 1980s and 1990s. Anil Kapoor has acted in several successful Indian films over the past two decades and is considered as one of the most versatile actors in the Indian film industry. His successful career in Bollywood has won him several fans all across the world.