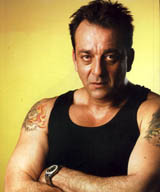 Sanjay Dutt
A.k.a / common misspelling: Sanjay Dut
IMDB page: http://www.imdb.com/name/nm0004569
Wikipedia page: http://en.wikipedia.org/wiki/Sanjay_Dutt
Occupation : Actor

Date of Birth : 29th July, 1959

Height : 6' 1"

Wife : Rhea

Daughter : Trishala

Father : Sunil Dutt (Actor)

Mother : Nargis (Actress)

Sisters : Priya & Anju

Debut Film : Rocky (1981)

Address : Plot No. 22, 11th Road, JVPD Scheme, Mumbai 400 049


Sanjay Dutt son of Nargis and Sunil Dutt was born on 29 July 1959. His hell raisin's days are behind him. Now he has settled into a steady pace. He's moved on from lover boy and action hero roles to try his hand successfully at slick gangster movies and comedy. He has turned producer also from film Kaante. Now he is in the position when he can book himself the kind of roles he fancies.
He started his film career with Rocky (1981). Although the film did well, but it failed to promote him as an established actor. In a period of 20 years in Bollywood, he acted in about 60 films which uplifted Sanjay Dutt and established him in the Film Industry though he had many ups and downs. Today he is one of the top 10 Bollywood actors. He had an affair with actress Madhuri Dixit when they were doing Thanedaar (1989)together.
Sanjay's personal life was exacerbate by drug problems and worsened with the death of his first wife Richa from cancer. He was arrest two times once under 'TADA' then for having illegal possession of several AK-57 weapons and was imprisoned while the case continued.
After his release from jail he had three consecutive hits ... Daag - The Fire (1999), Haseena Maan Jaayegi (1999) and Vaastav (1999). All these movies brought him moderate success. His performance in Vaastav (1999) earned him the Best Actor in a Leading Role award at Film Fare. Then sanjay appeared in the movie Mission Kashmir (2000), Kaante (2002) which were another award winning performances.
Sanjay Dutt has got married to his long-time girl friend, Rhea who stood by him in times of grief, agony and at a time when he really needed one who could well understand him. The wedding was a sensation it was held at hotel Taj on Valentine's Day.
His performance as a gangster in "Vaastav" earned him almost all the top awards that the industry has to offer, further cementing his place as one of the best actors in the Indian Film Industry.
He along with friend and director Sanjay Gupta (Director) formed a production company called White Feather Films. They have produced films such as Kaante, Musafir and Zinda in which Sanjay played the lead role. He has also excelled in comic roles in Munnabhai MBBS, Shaadi No. 1 and Lage Raho Munna Bhai etc.