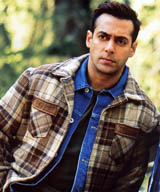 Salman Khan
A.k.a / common misspelling: Salmaan Khan
Official Web Site: http://www.salmankhan.net
IMDB page: http://www.imdb.com/name/nm0006795
Wikipedia page: http://en.wikipedia.org/wiki/Salman_Khan
Occupation : Actor

Birth Date: 27th December, 1965

Height : 5' 8"

Father : Salim Khan (script writer)

Mother : Salma Khan

Brothers: Arbaaz Khan & Sohail Khan (both actors)

Sisters : Alvira Khan, Arpita Khan

Debut Film : Biwi Ho to Aisi (1988

Address : 3, Galaxy Apartments, B.J. Road, Band Stand Bandra, Mumbai 400050


Salman Khan was born on 27 Dec 1965. He is the best selling torso in the town. Salman Khan has made a career of losing his shirt and life is one long roller coaster ride for him. But one serious offense which he has not committed lead him to failure. But he has loyal friends in the business than many of his less controversial peers. None of his recent controversies seem to have affected ticket sales of his film.
He is 5'7" looks charmingly handsome who comes from a family that already has acquintance of the industry with his father Salim Khan songs and script-writing the films for years. He comes in world's top ten good looking guys.
Salman Khan had a low profile after his first appearence in Biwi Ho To Aisi but successfully he managed to get the attention of a few top class directors and in meanwhile got a big break through Sooraj Barjatya's blockbustser movie Maine Pyar Kiya which broke all records at the box office and transformed him from a low profile category to the high profile in one night. The movie Maine Pyar Kiya was given a lot of praise in the industry doing a whole lot of good things for everyone in the movie and to top it all, was given the consideration as Sholay - II.
Then another hit Pather Ke Phool with Raveena Tandon but he was suddenly under the clouds of shadow as a few films of his had flopped and failed at the box office and again Raj Shree comes to his rescue giving him a chance in Hum Aapke Hain Koun. Later on there was no looking back for him as he has risen to the stardom and the life in the industry has been a walk on the bed of roses. He has got the Film Fare's 'Best Supporting Actor' for his role in Kuch Kuch Hota Hai which shows his maturity as an actor and his roles in Hum Dil De Chuke Sanam and Jaanam Samjha Karo are worth of appreciation. Chori Chori Chupke Chupke, Kahi Pyar Na Ho Jaye and Har Dil Jo Pyar Kare Ga were also good movie in which he performed well.
He was arrested and jailed for poaching endangered wild animals after allegedly shooting a rare black antelope near Jodhpur (12 October 1998). Arrested for culpable homicide following the death of a man in a car accident in Bombay. Mr Khan was involved in an incident in which several homeless people were hit by a car in an area of north Bombay. The film star has been charged with "culpable homicide not amounting to murder". He also faces charges of drunk driving and not having a valid licence. If convicted, he could be jailed for up to 10 years(October 2002)
Had a well publicised affair with Aishwarya Rai which lasted 2 years. He was accused in another press conference in 2003 by Vivek Oberoi to have called him on his mobile 41 times during one night and threatened him with death as well.
Then in 2003 Tere Naam released after a long wait to see salman khan on screen. People were saying it was the real story of salman and aishwarya. In this salman proved himself again that we can act well by giving his brilliant performance. Baghban also released in same year in which he had a small role.
In 2006, he will be seen in films like Jaan-E-Mann, Ravi Chopra's Baabul, the multi-starrer Salaam E Ishq: A Tribute To Love. And the film which will mark his Hollywood debut: Willard Caroll's Marigold: An Adventure in India opposite Ali Larter.