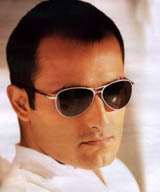 Akshaye Khanna






A.k.a / common misspelling: Akshay Khanna




IMDB page: http://www.imdb.com/name/nm0451379




Wikipedia page: http://en.wikipedia.org/wiki/Akshaye_Khanna




Occupation : Actor

Birth Date : 4 April, 1975

Birth Place : Mumbai

Zodiac Sign : Aries

Height : 5'9

Eye Color : Black

Hair Color : Black

Religion : Hindu

Education : Was not interested in study, joined martial art when he was in class 8th.

Marital Status : Single

Languages: Hindi, English



Akshaye Khanna 5'9" tall, son of Vinod Khanna and Geetanjali was born on 30th March 1975.




Akshaye Khanna started his film career with Himalayaputra produced by his father. The film flopped but Akshaye's performance was appreciated and his intense, brooding aura and surprisingly sweet smile have won the audience's attention. He proved his acting abilities by his second film J P Dutta's Border and his role, though a tiny one, won praises for him. He got Lux Zee Cine 'Best Supporting Actor Award' in 1997 for Border and filmfare 'Best Newcomer Award' in 1997 for Border. He also got 'Filmfare Best Supporting Actor Award' in 2002 for Dil Chahta Hai.




But after Border again his six years film career has been extremely tumultuous. There was a time when his film career was on the verge of a virtual collapse. But Taal put this talented actor back in the reckoning.




With his first negative role in Humraaz (2002), Akshaye's performance was applauded and earned a nomination for Best Villain. Akshaye recently has ventured into the low concept comedies of Priyadarshan such as Hungama (2003) & Hulchul (2004) and has enjoyed success there as well.




2006 is a big year for Akshaye, with 5 releases in the year. His first two releases, Shaadi Se Pehle and 36 China Town have not done as well as expected at the box office. He is currently working on Nikhil Advani's multi-starrer, Salaam E Ishq: A Tribute To Love which releases in Autumn of 2006.




His brother Rahul Khanna is also in the film industry but usually only appears in art films

.


Even before he has become a star Akshaye has developed a mystique. In his real life, he's a complete normal guy and an extremely private person. He refuses to let anyone into his private and personal matters and because of this he lacks the media's good graces. Self-belief has been Akshaye's strongest asset.




Today Akshaye Khanna is content to concentrate on just one project at a time, instead of rushing from set to set. This talented actor will surely prove himself opposite the establish actress.