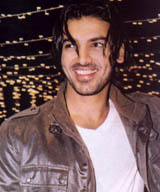 John Abraham
A.k.a / common misspelling: John Abrahm
Official Web Site: http://www.johnabraham.com
IMDB page: http://www.imdb.com/name/nm1303433
Wikipedia page: http://en.wikipedia.org/wiki/John_Abraham_(actor)
Occupation : Actor

Birth Date: 17th December

Birth Place : Mumbai. And is addicted to it, (the city that is not birth)

Zodiac Sign : Sagittarius

Education : Bombay Scottish and Jai Hind College, MBA, MET

Height : 6' 1"

Weight : 78kgs

Chest : 41"

Waist : 32"

Hips : 41"

Favourite Hang Out : Home. And his friendís Home


John Abraham, present hot star and teenage sensation of Bollywood, began his early years of education at the Bombay Scottish School. He did his Bachelors in Economics and then went on to do MMS from Mumbai Educational Trust (MET). He was working as a Media Planner at Enterprise-Nexus, an ad agency in Mumbai, when one day, a model ditched the shoot and his Boss suggested his name for doing the work. After that he got a hand full of offers and took up modeling as his career. His big break came in 1999, when he won the Glad Rags Manhunt Contest and went to Singapore for Manhunt International, where he won the second place. The half Keralite and half Iraninian, with his international looks, great body, innocent smile and down to earth personality easily became the highest paid supermodel in India.
He made his debut in Hindi films in 2003 with an erotic emotional movie 'Jism', which immediately pushed him into the public eye. The same year came the paranormal 'Saaya' (2003) and romantic 'Paap' (2003), both of them failed to click at the box-office. His first blockbuster hit was 'Dhoom' (2004), a thriller loosely based on the Hollywood flick the 'Fast and the Furious', in which he did his role of an evil guy convincingly. His next notable film was 'Madhoshi' (2004) where his screen presence and the credibility with which he plays Aman add vitality to the film.
In 2005, he did a lot of films- the list includes 'Elaan', 'Karam', 'Kaal', 'Viruddh', 'Water' and 'Garam Masala'. He acted well in 'Elaan' most of the time, but went overboard in sequences that demanded an outburst. He overcame this fault in his next film 'Karam', where he enacted the role of an assassin working for a mob boss, and made a sincere effort to live up to his role. In 'Kaal', he showed signs of a gifted actor and his performance bolstered his position in Bollywood. His next movie was 'Viruddh', with superstar Amitabh Bachchan, where he stood on his feet in every sequence.
Deepa Metha's 'Water', a film about the ill treatment of widows in the 1930s, was his next film where he played the role of an idealist lawyer and got wide international attention. Then he appeared in Priyadarshan's 'Garam Masala' where he made a very brave and largely honest attempt to play the clumsy but conniving pal convincingly. He came up with cool candour in some sequences. He followed his success in 2006 with memorable performances in 'Zinda' and 'Taxi No.9211'.
John takes special care of his physique and is considered to be a male sex symbol in Hindi Films. He has endorsed many products like Pepsi and now has his own apparel line John Abraham by Wrangler. A romantic at heart, he is involved with Bipasha Basu, fellow actress and believes in the celebration of life. John is crazy about bikes and goes riding whenever he gets a chance. Recently he was voted as the 'Sexiest actor in India' in a Durex Global Sex survey.