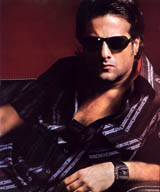 Fardeen Khan
A.k.a / common misspelling: Farden Khan
IMDB page: http://www.imdb.com/name/nm0007228
Wikipedia page: http://en.wikipedia.org/wiki/Fardeen_Khan
Occupation : Actor, Model

Birth Date : 8 March, 1974

Zodiac Sign : Pisces

Height : 6' 0

Eye Color : Black

Hair Color : Black

Religion : Muslim

Education : Graduate in Business Management from University of Massachusetts, USA

Marital Status: Married

Languages : Hindi, English

Hobbies : Perform Real Stunts

Father : Feroz Khan

Mother : Sundari Khan

Sister(s) : Laila Khan-Rajpal

Spouse : Natasha Madhwani

Debut Film : Prem Aggan

Address : Sunshine, Jasawala Wadi, Juhu Road, Mumbai 400 049


Fardeen Khan was born on March 8 1974 to superstar actor, director Feroz Khan and Sundari Khan . He is a typical Pisces. Stubborn yet caring, affectionate and very hard working. He entered films in 1998 with a home production, directed by father Feroz Khan Prem Agan.
Fardeen Khan was born in India but has non-Indian accent which clearly comes across on the big screen because he has studied abroad a lot. A graduate (Business Management Degree) from the University of Massachusetts, USA. He also has very western looks which in the past has been a negative point for a lot of actors because they can't easily fit into the stereotype typical Indian male roles.
Fardeen used to date Pooja Bhatt, but they broke up when he went to UMass. Fardeen also dated Ruhin Khan. He is married to Natasha Madhwani, the daughter of former actress Mumtaz and business tycoon Mayur Madhwani. The two were engaged in a private ceremony in London on May 6, 2005. The marriage ceremony took place on December 14, 2005 via a registration service. Allegedly, the marriage was a 3 day long affair with various functions being held at the Hyatt and JW Marriott hotels in Mumbai. The marriage ceremony itself was conducted according to Muslim and Hindu rites. The wedding was a major events where bollywood stars attended, such as, Shahrukh Khan & Preity Zinta flying in especially from New York.
Natasha's mother Mumtaz and Fardeen's father Feroz played lovers onscreen a number of times in the 70s. Fardeen's wife went to boarding school in England, while her father, Mayur, pursued his business interests in Africa. After studying in America, she settled down with her parents in London.
Fardeen restrategized and succeeded. He may not be the high-profile triangle of Shah Rukh Khan, Aamir Khan and Salman Khan and he is just not one more Khan who has amazed the Bollywood.
From last four years Fardeen saw a professional drought none of his films working well which can give him status as an actor of merit. In spite of working with big makers Boney kapoor in Khushi, Ram Gopal Verma in Pyar tune kya kiya, Jungle and Bhoot. Fardeen career remained in cold storage, barely giving him any marks for his acting. Though, it must be admitted that the prestigious Provogue campaign had never found a better ambassador than Fardeen Khan with his international good looks.
Fardeen's grand relaunch was supposed to be his father's much hyped film Jaanasheen. But larger the effort, the greater was the fall. This film too failed to make any ripples. In the meanwhile there were stories of ugly escapades and his fleeting dalliances with numerous nymphets. On May 5 2001 he was arrested on charge of possessing cocaine.
He had a critically acclaimed performance in Dev where he starred with Amitabh Bachchan, Om Puri and Kareena Kapoor. His first hit in 2005 was No Entry. Where his performance was excellent as Sunny.