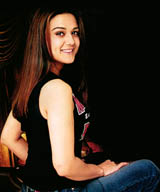 Preity Zinta
A.k.a / common misspelling: Preety Zinta
IMDB page: http://www.imdb.com/name/nm0006689
Wikipedia page: http://en.wikipedia.org/wiki/Preity_Zinta
Occupation : Actress

Birth Date : 31 January, 1974

Birth Place : Shimla

Zodiac Sign : Aquarius

Height : 5' 5

Weight : 52 Kgs

Hair Color : Black

Marital Status : Single

Languages : Hindi, English

Hobbies : Fitness

Boyfriend : Ness Wadia

Ex-boyfriend : dated Marc Robinson but broke up

Debut Film : Dil Se

Address : C/10A, Ranwar, Waroda Rd., Bandra (w), Mumbai - 50


Preity Zinta , born 31 January 1974 is an Indian actress who appears in Bollywood movies. She is among the most successful actresses in the industry.
Born in Shimla, Himachal Pradesh, she studied at the Convent of Jesus and Mary School, Shimla. She comes from a Hindu Pahari family of Rohru in Shimla District. At first she was going to do a English honours but decided to pursue psychology. She also attended Bombay University. After getting a degree in criminal psychology at the St. Bedes College, Zinta began her career as a model and commercial (ad films) actress (she was seen in Lyril's soap ad film).
Her father, Durganand Zinta was an officer in the Indian Army. Durganand Zinta died when Preity was thirteen, in a car accident in which her mother, Nilprabha Zinta was also involved. Her mother was bedridden because of this incident. Zinta has two brothers, Deepanker Zinta and Manish Zinta, a year older and a year younger respectively. One of her brothers is a commissioned officer in the Indian Army.
She was meant to make her acting debut with Shekhar Kapur's Tara Rum Pum Pum opposite Hrithik Roshan but the film never took off . Her first movie to be released was supposed to be Soldier but due to delay Dil Se (1998) was released first. The film was her breakthrough role and she won the Filmfare Best Debut Award for her performance. Since then her career has gone on to a number of other successes.
In 2003, Zinta was the female lead in two of the year's highest grossing films, Koi... Mil Gaya and Kal Ho Naa Ho. She won many awards for her role as "Naina" in Kal Ho Naa Ho. Her performance got her the Filmfare Best Actress Award . Since then she has appeared in the averagely received Lakshya (2004) and the box office hit Veer-Zaara (2004) and the hit Salaam Namaste (2005). Salaam Namaste turned out to be the biggest hit overseas.
She joined a group of top stars (Shahrukh Khan, Rani Mukerjee, Saif Ali Khan, Arjun Rampal, and Priyanka Chopra) in the Temptation 2004 concert, which was a huge international success.
In May 2006, she along with Karan Johar received an invitation to represent Bollywood at the Cannes Film Festival. They took this opportunity to promote Karan Johar's latest film Kabhi Alvida Naa Kehna which Preity also stars in.
Zinta has written three columns for BBC South Asia
She is currently dating Ness Wadia, the heir to the Bombay Dyeing company.
Previously, when she was not shooting she used to return to Shimla. Zinta recently moved into her own home in Mumbai, which she bought in mid-2005.