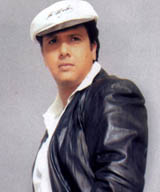 Govinda
A.k.a / common misspelling: govinda
IMDB page: http://www.imdb.com/name/nm0332871
Wikipedia page: http://en.wikipedia.org/wiki/Govinda_(actor)
Occupation : Actor

Birth Date : 21 December, 1958

Birth Place : Punjab

Original Name : Govind Arun Ahuja

Nick Name : Chi Chi

Zodiac Sign : Sagittarius

Height : 5' 8

Eye Color: Black

Hair Color : Black

Religion : Hindu

Marital Status : Married

Languages : Hindi, English

Mother : Nirmala Devi

Brother(s) : Kirti Kumar

Sister(s) : Kamini

Spouse : Sunita Ahuja

Debut Film : Ilzaam

Address : Jal Darshan, A Wing, Ruia Park, Juhu, Mumbai 400 049


Govinda is a one man entertainment show. His real name is 'Govinda Ahuja' and his pet name is 'Chichi'. He is 5'8" and was born on 21st December, 1963. His father Arun Kumar Ahuja was a producer, mother Nirmala Devi was a singer and his brother Kirti Kumar is Producer, director, actor. He is got married to Suneeta and have two children.
Govinda's first film was Ilzaam in 1986. He acted in a string of movies after that, none of which was a major success. From 1986 to 1992 he often played serious roles in family dramas such as Dariya Dil, Karz Chukana Hai and Jaise Karni Waise Barni. Finally, in 1988, Hatya, directed by his brother Kirti Kumar, proved to be commercial success. He then did several movies directed by David Dhawan, most notably Shola Aur Shabham (1992) and Aankhen (1993), that were not only successful but also pulled Govinda towards comic roles. He then made a number of comedy films in the 1990s, often alongside actresses such as Karishma Kapoor and Raveena Tandon.
Raja Babu, Coolie No. 1, Saajan Chale Sasural, Hero No. 1, Deewana Mastana, Bade Miyan Chote Miyan and Haseena Maan Jaayegi were some of the other movies that the David Dhawan - Govinda combination did.
Govinda played a negative role for the first time in Shikari which was released in 2000. Although the movie was not a commercial success, Govinda's convincing portrayal of a villian was critically acclaimed. His movies since then have not been box-office succeesses.
He decided to move to politics in 2003 and has not released any movies in 2004 or 2005 apart from his delayed films Khullam Khulla Pyaar Karen and Ssukh in 2005 which were also failures at the box office.
Govinda is set to make a comeback in 2006 and will release two new movies: A comedy, directed by David Dhawan and Nikhil Advani's multi-starrer Salaam E Ishq: A Tribute To Love.
In 2004 he has enter into politics and stand by the side of Congress. He has won in West Mumbai against Ram Jaithe Malani. But he will not quit from movie.
He has gone out of his way to find ways and means to get his near and dear ones into films. He also helps all those he believes deserve help.The masses love him because they indentify with him.