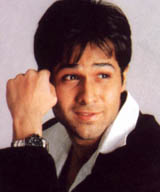 Emraan Hashmi
A.k.a / common misspelling: Imraan Hashmi
IMDB page: http://www.imdb.com/name/nm1431656
Wikipedia page: http://en.wikipedia.org/wiki/Emraan_Hashmi
Occupation : Actor

Birth Date : 24 March, 1979

Birth Place : Mumbai

Zodiac Sign : Aries

Height : 5' 11

Weight : 72 Kg

Eye Color : Black

Hair Color : Black

Nick Name : Emmi

Religion : Muslim

Marital Status : Single

Languages : Hindi, English

Debut Film : Footpath


Emraan Hashmi (born as Emran Anwar Hashmi on 23 March 1979 in Mumbai, Maharashtra, India) is an Indian actor.
His birth name is Emran Anwar Hashmi, he is born to a Muslim father and Catholic mother. He later changed it to Farhaan Hashmi but recently decided to keep his original name but add an extra "a" as per numerology[citation needed]. He graduated from Sydenham in Mumbai where he studied graphics and animations [citation needed]. He is related to Mahesh Bhatt and is a cousin to actress turned director Pooja Bhatt.
Hashmi made his debut in 2003 with the film Footpath but it did not do well at the box office. He shot to fame with Murder (2004) which was his first hit. His next few films such as Aashiq Banaya Aapne, Kalyug and Gangster have done moderately well at the box office and the soundtracks in these respective films have helped create a large fan base.
Emraan is also famous for his kissing scenes in all of his movies. He is referred among the youngsters as serial-kisser (based on the fashionable word serial-killer) because of the number of kisses he does in his movies as this trend has started in the bollywood films from 4 years and was not common before. Emraan also described his first on screen kiss during an interview claiming that he was very nervous and almost opted out of the scene before going ahead and shooting it with the female co-star.