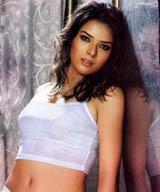 Udita Goswami
A.k.a / common misspelling: Udita Gosawami
IMDB page: http://www.imdb.com/name/nm1571396
Wikipedia page: http://en.wikipedia.org/wiki/Udita_Goswami
Occupation : Actress , Model

Birth Date : 2 September 1984

Birth Place : Dehradun

Height : 5'71/2"

Marital status : single

Boyfriend : Mohit Suri

Education : school in Dehradun, Uttaranchal

Debut Film : Paap

Languages : hindi, english


Udita Goswami model turned into actress has come a long way from Dehradun where she was born. Udita Goswami debut film was Pooja Bhatt's Paap opposite John Abraham
Udita always wanted to be part of showbiz and was never interested in life in a small town. Her parents were afraid of sending their daughter off into the big bad world of modeling but seeing her determination, they had to admit that their daughter had the courage to achieve what she wanted.
However, Udita did not become a model with the intention of using it as a stepping stone to acting. Lady Luck smiled on her when she got a call from Pooja Bhatt offering her the heroine's role in Paap. Though Udita had received a lot of film offers earlier, it was only in Paap that she finally made her debut on the silver screen. Even then, it was only after much soul searching that she actually met Pooja that meeting changed her life. Udita was completely convinced by the role and took up the offer immediately. It also proved to be the beginning of a friendship between Pooja and Udita. The unit and director were very supportive of Udita as was John Abraham, the hero of the film. Besides, John had been a model too and Udita had known him since then. So she wasn't uncomfortable acting in the sensuous sequence with John. Also, Udita makes it very clear that she has no objections to aesthetically handled erotic scenes.
Debutante Udita Goswami surprises with a polished performance that is likely to put many of her contemporaries to blushes. She is successfully able to convey the inner dilemmas of her character with the acting that is punctuated with restraint and outbursts. Paap is engrossing, visually stunning and thematically moving.
Her next film Zeher, which also starred Emraan Hashmi and Shamita Shetty, was her breakthrough role and she became a well known face in the industry. Her role was that of a femme fatale in this film. The film was quite controversial as it included some explicit scenes. She also acted in the movie Aksar, opposite Dino Morea and Emraan Hashmi. She was featured with Upen Patel in Ahmed Khan's music video.
Udita has done performances for political awareness. Udita did her schooling from dehradun
Udita is getting a lot of offers but she is cautious. She does not mind doing commercial films if she likes the role and is open to all good offers. Spoken like a true Bollywood actress.