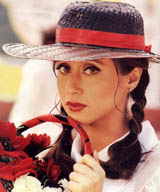 Urmila Matondkar
A.k.a / common misspelling: Urmila Mantodkar
IMDB page: http://www.imdb.com/name/nm0007107
Wikipedia page: http://en.wikipedia.org/wiki/Urmila_Matondkar
Occupation : Actress

Birth Date : 4th February, 1973

Birth Place : Mumbai, India

Star Sign : Aquarius

Eye Colour : Black

Height : 5' 4"

Address : 93/14 Sanman, Lokhandwala Road, Andheri (W), Mumbai 400 058, (India)


Urmila Matondkar was born on 4th Febuary. She has started her career as a child artist with her best performance in film Masoom in 1982.
Her debut film was Aa Gale Lagja with co-star Jugal Hansraj. But it was flop. She has done insignificant roles in films like Narsimha and Chamatkaar, but realised that even co-star Shah Rukh Khan couldn't salvage her literally non-existent career. That was when she decided that she had to do some serious work.
Rangeela managed to give Urmila's career a much-needed boost. For this movie she got the filmfare award for best actress. In this movie she came out with a glamourious look. This movie had created a new trend for costumes. Her role in this film as an extra who want to become an actress, perfectly brought out Urmila's bubbly side, even though the acting called for some refinement. And the credit for her being recognised as an actress goes completely to besotted director Ram Gopal Verma. From this film she was recognized as the most sexiest and appealing actress. She also became the lucky mascot of Ram Gopal Verma. She had done Koan, Satya, Pyar Tu Ne Kya Kiya which proved that she is not a sex symbol only. She got the critic award as an actress for Pyar Tu Ne Kya Kiya. Urmila challengingly took up the role of the other woman in Mere Sapno Ki Rani with Madhoo and Judaai with Sridevi.
Urmila has an amazing ability to reinvent herself. For long she created the wave of her sensuality, amring herself with every pout and pose in the book. She had perfected the art of pin-up girl. But in 2003 she did a turn around, her four movies released Tehzeeb, Ek Hasina Thi, Pinjar, Bhoot. In Tehzeeb in her role she brought subtle and controlled anger. One who is waiting to erupt, yet looks so calm on the outside. It was a intense movie. Ek Hasina Thi was a action thriller. She has given technically refined performances in the movie. Pinjar had not done well but still in that she has shown her audacity. This show she is not trapped by her career moves. Her spine chilling performance in Bhoot was highly praised by people. These type of roles very few heroine's do.
There's always been a hunger in her to do something new. She constantly need something she haven't done before. These days she is forming cultural ties with celebrated painter M.F.Hussain, he wants to sign her for his next film.