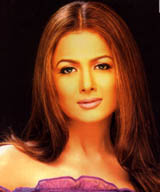 Amrita Arora
A.k.a / common misspelling: Amritaa Arora
IMDB page: http://www.imdb.com/name/nm1147677
Wikipedia page: http://en.wikipedia.org/wiki/Amrita_Arora
Occupation : Actress

Birth Date : 31 Jan

Height : 165 cms

Weight: 50.0 kgs

Bust : 34.0 "

Waist : 24.0 "

Hips : 35.0 "

Address : Plot No198 Poojakunj Apts., Sher-e-Punjab Colony, Plot No. 195, Andheri (E)Mumbai 400 093


She started her career in showbiz industry as a model and then graduated to acting in films. Initially known as Malaika Arora's little sis, Amrita earned recognition through regular video jockeying on MTV. She also featured in ads such as Ponds, Elle 18, Sunsilk Fruitamins and AfterShave.
Amrita made her Bollywood debut opposite Fardeen Khan from a flop film Kitne Door Kitne Paas. She followed her forgettable debut with an unlikely role of a bitchy woman in Vikram Bhatt's Awara Paagal Deewana.
In spite of a slow start Amrita is getting regular offers from Bollywood, but fame also brought in its share of controversies. Rumors were fast in flowing, linking her to a crop of stars, from crooner Kamal Khan to Fardeen Khan to Salman Khan. This 5'5" Aquarian seems to have courted controversy much before her first release.
Mischievous, ambitious, confident, charming and focused Amrita has carved a name for herself. This petite actress is one to watch out for!
A series of flop followed, among them the controversial Girlfriend (2004) opposite Isha Koppikar, a movie about a lesbian relationship. Her latest release was Fight Club produced by Sohail Khan, Arbaaz Khan's brother. She appeared on the show Koffee with Karan, hosted by Karan Johar with her sister.
Her next movies will be Deha, Jeet: Feel the Force and Raakh, all to be released in 2006.