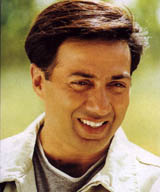 Sunny Deol
A.k.a / common misspelling: Suny Deol
IMDB page: http://www.imdb.com/name/nm0219971
Wikipedia page: http://en.wikipedia.org/wiki/Sunny_Deol
Occupation : Actor

Birth Date : 19 October, 1956

Birth Place : New Delhi

Zodiac Sign : Libra

Height : 5' 11

Eye Color : Black

Hair Color : Black

Religion : Punjabi

Marital Status : Married

Languages : Hindi, English

Mother : Prakash Kaur

Brother(s) : Bobby Deol

Sister(s) : step-sisters Esha Deol and Ahana Deol

Spouse: Pooja Deol

Debut Film : Betaab

Address : Plot No. 22, 11th Road, JVPD Scheme, Mumbai 400 049


Sunny Deol born to filmstar Dharmendra as "Ajay Singh Deol". This 5'9" tall guy made his debut as a teenage romantic hero in Betaab with co-star Amrita Singh. Action roles seemed to be his forte, but he also tried his hand at romantic roles in several movies.
His powerful draw at the box office...the 'dhishum dhishum' comes so naturally as does a getlemanly demeanour which attracts women in hordes. Additionally his ever youthful look is a major plus point in itself.
From romantic hero to the rebellious, unemployed angry young man out to get justice, the blockbuster Ghayal established Sunny as the action hero in Bollywood. Lately, Sunny has been busy with other work apart from acting - directing. For now, Sunny has his hands full and more home productions seems to be in the offering.
His Gadar was a mega hit. He performed well in this film. The brawn machine that steamrolls its way at the box office. Action sells and so does Sunny Deol. 2003 was not too good a year for him, however. His mega-budget The Hero didn't live up to expectations and his other movies were quite forgettable. His track record has been dented, but it will continue to be biceps and bashing all the way next year. The shy, soft-spoken Deol is a tough guy to keep down for long.