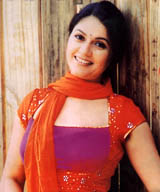 Gracy Singh
A.k.a / common misspelling: Gracie Singh
IMDB page: http://www.imdb.com/name/nm0961737
Wikipedia page: http://en.wikipedia.org/wiki/Gracy_Singh
Occupation : Actress

Birth Date : 20 July

Birth Place : Delhi

Hair Color : Black

Marital Status : Single

Languages : Hindi, English, Punjabi

Hobbies : Watching TV

Debut Film : Lagaan

Address : Salvadore, 7th floor, lat No. 702, Shastri Nagar, Near Lokhandwala Complex, Andheri (W), Mumbai 400 053


Gracy turn out to be the actress with best ratio of hits to her credit. She delivered a enormous success in Lagaan and now she has followed it with another hit Munna bhai MBBS. Her performance is been praised by the critics even though the film is totally focused on Sanjay Dutt. Gracy is been calling as a lucky mascot in the industry.
Gracy Singh in a very short time covered a very long journey, from Zee TV to Oscars, better known as "Dinki" in the popular serial "Amaanat". She played the village girl in the Oscar nominated film Lagaan opposite Aamir Khan. In 2003 her three films released Armaan, Gangajaal and Munna Bhai MBBS which are super hit movies. In two films she acted as doctor. In all her films she has given her best performance.
Gracy Singh is a warm, passionate, simple girl. She is a graceful dancer also. After seeing her performance it seems that this popular television actress is looking forward to be a great actress in the coming years of indian cinema. Gracy Singh recently made her Bharatanatyam debut, recreating an old charm.