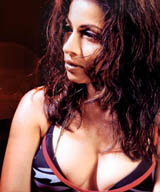 Antra Mali
A.k.a / common misspelling: Antra Maali
Occupation : Actress

Birth Place : India

Eye Color : Black

Hair Color : Black

Height : 5'5

Religion : Hindu

Marital Status : Single

Languages : Hindi, English

Debut Film : Dhoondte Reh Jaaoge


Antra Maali daughter of ace-photographer 'Jagdish Maali'. She was slow to start under the arc lamps. Breakthrough came for her with a brief cameo offer in Mast, after which the film's director 'Ramgopal Varma' not only became her mentor but also a savior for her non-happening career.
Antra Maali acted as an author-backed role in Ramu's film Company opposite Vivek Oberoi from where she was groomed as an actress and she graduated from second fiddle roles to being a heroine in Ramu's Road. Antara made her Bollywood debut in a small budget film called Dhoondte Reh Jaaoge. The film went unnoticed and to Antara's dismay her second film Dum Dum Diga Diga was shelved halfway through.
Then she came in Ramgopal Varma's Darna Mana Hai which has six stories interwoven together into a single movie. In the first story she is acting with Sohail Khan which revolves around a young, married couple stuck in the middle of a dense forest. Then she snapped up the in the leading role in Ramgopal Varma's film with an unusual title Main Madhuri Dixit Banna Chahti Hoon. The film is said to be based on a heroine-oriented story and will have Antara pairing with the lesser-known Rajpal Yadav.
Antara played Tushar Kapoor's love interest in Gayab, where she looked hot in her skimpy outfits giving other bold babes a run for their money. Next she was seen in 'Nach' paired with Abhishek Bachchan where she makes Abhishek dance to her tunes. Antara Mali will be seen in a mix of meaningful and entertaining films, including Anurag Kashyap's Gulaal. Eventually, she plans to move into film direction.