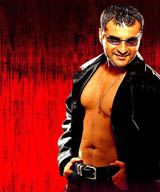 Sanjay Kapoor
A.k.a / common misspelling: Sanjay Kapur
IMDB page: http://www.imdb.com/name/nm0438503
Wikipedia page: http://en.wikipedia.org/wiki/Sanjay_Kapoor
Occupation : Actor

Birth Date :17 October 1965

Birth Place : Mumbai, India

Brother(s) : Anil Kapoor, Bonny Kapoor

Debut Film : Raja


Sanjay Kapoor (born 17 October 1965 in Mumbai, India) is a Bollywood actor and the brother of actor Anil Kapoor and producer Boney Kapoor and brother-in-law of actress Sridevi and Sandeep Marwah of Marwah Films & Video Studios and The Asian Academy of Film & Television. He is the son of Surinder Kapoor, who is also a film producer.
He began his career opposite Madhuri Dixit in the film Raja. The film was a box office success and he became a star overnight.
This was followed by many films which flopped or did reasonably well at the box office. Though not as successful as his brother, he has managed to get positive reviewes from the critics and audiences.
He has given excellent performances as a villain playing an obsessive husband to Esha Deol in Koi Mere Dil Se Poochhe. This was followed by another villainous role playing a terrorist in the film Qayamat: City Under Threat.