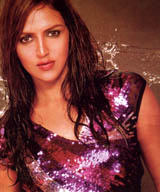 Esha Deol
A.k.a / common misspelling: Isha Deol
IMDB page: http://www.imdb.com/name/nm0219968
Wikipedia page: http://en.wikipedia.org/wiki/Esha_Deol
Occupation : Actress

Birth Date : 2 November, 1982

Zodiac Sign : Scorpio

Hair Color : Black

Education : Masters Degree in Media Arts and a Bachelor Degree In Computer Technology at Oxford University

Marital Status : Single

Languages : Hindi, Tamil, English

Mother's Name : Hema Malini

Brother(s) : Bobby Deol, Sunny Deol

Sister(s) : Ahana Deol

Debut Film : Koi Mere Dil Se PoochheFavourite Actress: Kajol

Favourite Hollywood Actress : Julia Roberts

Favourite Perfumes : Estee Lauder's Pleasure

Likes : Working out and listen to a lot of music

Address : 17, Jai Hind Society, 12th JVPD Scheme , Mumbai 400 049


Esha Deol was born on 2nd November. She is eldest daughter of 'Dharmendra' and Dream Girl 'Hema Malini'. She has her mother's beauty and her father's acting sensibilities to make her own name.
She is shy, lovely, petite girl. She has the back up of talented stars like Dharmendra, Hema Malini, Sunny Deol & Bobby Deol.
The extremely talented actress came to limelight when she turned down films like Mohabbatein and Hey Ram. Her First debut film was a Boney Kapoor's Koi Mere Dil Se Poochhe opposite Aftab Shivdasani. The film is a love story while exploring the relationship between a mother and a daughter. But there is nothing novel about the story and director Vinay Shukla's sense of cinematic presentation. Esha's acting is bogged by usual hamming. Esha has a long way to go before she could live upto the credentials of her distinguished lineage. Although she exudes confidence before the camera her demeanor in general gives the impression of arrogance.
After that Zayed Khans and Esha Deol's romantic thriller Chura Liya Hai Tumne came but not have set the cash registers ringing at the box office, but the duo continue to get offers to act together in films.
She finally had her first big hit in Dhoom (2004).
This was followed by a Karan Johar and Shahrukh Khan joint production, Kaal. Her next hit, Boney Kapoor's No Entry was declared the biggest grosser of 2005. She also had a hit with the action thriller Dus. She is set to star in her mother's next directorial venture with Rekha and Abhishek Bachchan and also a film in which her mother and her will be starring together in for the first time.
Besides working in movies, Esha is an accomplished classical dancer, National Level football player. The multitalented actress is all set to storm the film industry.