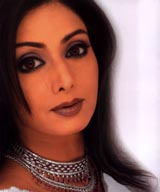 Sridevi
A.k.a / common misspelling: Shridevi
IMDB page: http://www.imdb.com/name/nm0004437
Wikipedia page: http://en.wikipedia.org/wiki/Sridevi
Occupation : Actress

Birth Date : 13 August, 1963

Birth Place : Sivakasi, Tamilnadu

Original Name : Shree Amma Yanger

Nick Name : Puppy

Height : 5' 7

Hair Color : Black

Education : British School, graduate at Oxford, master's at London School of Economics in International Relation

Marital Status : Married

Languages : Hindi, English, Telugu, Tamil

Spouse : Boney Kapoor

Daughter : Jahanvi, Khushi

Debut Film : Julie

Address: Green Acres, 7 Bungalows, Lokhanda Complex, Andheri (W), Mumbai 400 058


Sridevi was born on August 13, 1963 in Sivakasi, Tamil Nadu) is an Indian actress who has acted in Hindi, Tamil, Malayalam, Telugu, and Kannada films. She was one of the top actresses of the 1980s and 1990s. She frequently took comic roles.
Sridevi has been married to film producer Boney Kapoor since June 2, 1996 and has two daughters, Jhanvi and Khushi, both named after heroines in her husband's movies (Judaai and Hamara Dil Aapke Paas Hai). She lost her parents during the making of two films: her father, a lawyer, during the making of Lamhe and her mother during the making of Judaai. Though it is Hindu custom that the eldest son lights the funeral pyre, Sridevi did so for her mother's last rites. She has a sister, Srilata, with whom she was briefly estranged as her only sister disapproved of Sridevi's marriage to Kapoor.
Her brothers-in-laws are Sanjay Kapoor and Anil Kapoor, who played opposite her in various of her movies, and Sandeep Marwah. She also has a sister-in-law, Reena. Her father-in-law is film producer Surinder Kapoor.
She started her career as a child artist in South Indian regional films and performed in over 200 movies. As an adult, she was often paired with Kamal Hassan (they did 23 movies together). She was also frequently paired with Jeetendra (19 movies).
In 1983, she starred in her first Hindi film, Solva Saawan. This movie failed at the box office; however, her second Hindi movie, Himmatwala, was a success. Throughout the 1980s, she starred in a number of very successful movies, among them Nagina, Mr. India, Chandni, and Chaalbaaz, which won her a Filmfare Award.
Sridevi in Meri Biwi Ka Jawab Nahin (2005)Yash Chopra directed her in Lamhe (1992), which won her a Filmfare Best Actress Award and an International Best Actress Award. She was approached by Steven Spielberg with a film offer but rejected it, as she thought it would take too much time from her crowded Indian filming schedule.[citation needed] After Judaai (1997), she left the industry in order to raise her two daughter, Jhanvi and Khushi.
After a six-year hiatus, Sridevi returned to the small screen, briefly, in the Sahara sitcom Malini Iyer (2004-2005). She also appeared on Jeena Isi Ka Naam Hai for Karishma Kapoor (2004) and as a judge in the TV show Kaboom (2005).
She is a member of the Board of Director at the Asian Academy of film and television. She was also a part of Mani Ratnam's stage show, Netru, Indru, Naalai.