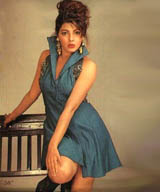 Mamta Kulkarni
A.k.a / common misspelling: Mammta Kulkarni
IMDB page: http://www.imdb.com/name/nm0474616
Wikipedia page: http://en.wikipedia.org/wiki/Mamta_Kulkarni
Occupation : Actress

Birth Date : 20 April, 1972

Birth Place: Mumbai, Maharashtra

Zodiac Sign: Tarus

Height: 5' 5

Hair Color: Black

Nick Name: Rani

Education: Graduate of Delhi University

Languages: Hindi, English

Sister(s): Mithila, Moulina

Debut Film: Tiranga

Address: D Wing, 701, R.C. Complex, Opp. Panchavati, Versova Yari Road, Mumbai 400 061


Mamta Mukhund Kulkarni , born 20 April 1972) in Mumbai, is a former Bollywood Actress. She currently lives in New York City.
Kulkarni made her debut in the 1992 movie Tiranga. She gained fame after posing topless (but with her arms crossed over her breasts) for a photograph that appeared on the cover of Stardust, a popular Indian film magazine in September, 1993. She was charged under India's obscenity laws, and found herself under attack from both conservative religious groups, and women's groups. The outspoken actress lashed out at protesters, calling them hypocrites. The resultant publicity brought her a slew of acting offers (including a leading role in Karan Arjun, alongide Salman Khan, Kajol, and Shahrukh Khan - arguably her biggest role), though most of the roles involved little more than glamourous song-and-dance sequences, in keeping with her status as a sex symbol.
Kulkarni was finally convicted in July 2000, and fined Rs 15,000. However, this caused yet another controversy because she appeared in court in a burqa to evade photographers, which led to death threats and protests from the local Islamic community.
Unfortunately for her, Kulkarni's career was not a happy one. Her detractors claim that she could never fit into the class-conscious industry because of her inability to speak fluent English. However, the other view is that the actress's brazen outspokenness antagonised her colleagues. Kulkarni, who spoke with a broad Marathi accent, was reportedly taunted as being a 'vern' (a derogatory term, short for vernacular) by some assumedly well-heeled actresses. Press interviews in which she attacked other actresses, and was attacked in return, worsened the matter further.
At the same time, she continued to be dogged by controversy. In 1997, she was reportedly paid a large amount to perform at a private function by a legislator from Bihar, who was later arrested after investigations into the Fodder Scam case. Kulkarni was interrogated, but she denied any knowledge of the legislator's antecedents.
Kulkarni had expressed regret at being typecast as an item girl. Her luck seemed to have changed when Rajkumar Santoshi, in whose earlier movie Ghatak she had a cameo appearance, cast her as the female lead in his 1997 movie China Gate, an ambitious remake of The Magnificent Seven. In a deglamourised role and sharing screen space with some of Hindi cinemas finest actors, she had the perfect opportunity to showcase her acting talent.
However, things did not go as planned. Relations between Santoshi and the actress soured, and rumours began circulating that Kulkarni was dropped from the movie, and reinstated only after gangster Chhota Rajan intervened on her behalf. When the movie was finally released, it was also a huge flop. Furthermore, the only song in the movie, the item number Chamma Chamma, was picturised on Urmila Matondkar, even though Kulkarni had built her reputation with such numbers. To add insult to injury, the song turned out to be a chartbuster, and was even used in Baz Luhrman's Moulin Rouge, and greatly increased Urmila's popularity.
Angered at the turn of events, Kulkarni lashed out at Santoshi, accusing him of cutting her screen time because she had refused his advances. Santoshi denied all rumours related to the movie, and the matter was given a quiet burial. However, this proved to be the death blow to Kulkarni's career. She only appeared in a handful of movies after that, and new offers dried up. She has all but quit movies.