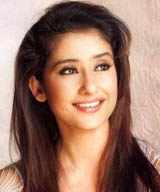 Manisha Koirala






A.k.a / common misspelling: Manissha Koirala




IMDB page: http://www.imdb.com/name/nm0463539




Wikipedia page: http://en.wikipedia.org/wiki/Manisha_Koirala




Occupation : Actress



Birth Date : 16th August, 1970

Birth Place : Kathmandu

Nickname : Manya, Manu

Height : 5' 5"

Father : G.P. Koirala (Nepal's Ex President)

Brother : Sidharth

Debut Film : Saudagar (1991)

Address : 302 Beachwood Towers, Yari Road, Versova, Andheri (W), Mumbai 400061



Manisha Koirala born on 16th August 1970 in Kathmandu, Nepal. Her nick name is "Manya", "Manu". Height is 5'5". Her uncle was the Prime Minister of Nepal. Her grandfather B.P. Koirala was Prime Minister of Nepal during the late 50s-early 60s. Two of her grandfather's brothers were also prime minister of Nepal: Girija Prasad Koirala (different times during the 90s and M.P. Koirala (early 50s). Engaged to Christpin Conroy, the current Australian ambassador to Nepal (2001). She is an accomplished Bharatnatyam and Manipuri dancer.




Subhash Ghai had given first break in Saudaagar with co-star Vivek Mushran. Saudaagar did not do as well as it was expected to do. But Manisha set her charms on the industry. She was unusually attractive and was willing to experiment with her talent. Her range began from Love Letter to 1942: A Love Story to more serious ones like Akele Hum Akele Tum, Agnisakshi, Bombay, Khamoshi, Dil Se and Mann.




She had been awarded FilmFare Critics Award as Best Performance(1995) in Bombay and FilmFare Critics Award as Best Performance(1996) in Khamoshi




Her performance in the latter gave her the Filmfare Critics Award for Best Performance. The film was directed by Mani Ratnam, and she starred in his next film Dil Se. She starred with Ajay Devgan in the film Company directed by Ram Gopal Verma but succeeding films, of which she did many, did not do as well at the box office.




She produced the small-budget caper-comedy Paisa Vasool (2004) in which she starred alongwith Sushmita Sen and was directed by Srinivas Bhashyam; this was probably the first ever chick-flick in Indian cinema in that it didn't have a male lead nor a love story.




In a career spanning a decade, the Nepali beauty has done her variety and still has zest to 'work in meaningful projects'. Films apart, the person in Manisha does not shy away from taking on responsibilities to improve the state of people in the country. Women, rather girl children have called her attention and she is doing her bit to make a difference to their lives.