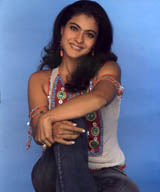 Kajol
A.k.a / common misspelling: Kajal
IMDB page: http://www.imdb.com/name/nm0004418
Wikipedia page: http://en.wikipedia.org/wiki/Kajol_Devgan
Occupation : Actress

Birth Date : 5th August, 1975

Birth Place: Mumbai

Height : 5' 5"

Debut Film : Bekhudi (1992)

Zodiac Sign: Leo

Hair Color: Black

Marital Status: Married

Languages: Hindi, English

Address: Sea Cliff, 1st Floor, Gandhigram Road, Juhu, Mumbai 400 049


Kajol Devgan, born August 5, 1975 in Mumbai, India, popularly known as Kajol, is a popular Bollywood actress.
Kajol comes from a Bengali family with a long history in Indian cinema. Her mother Tanuja was an actress; Her father is Shomu Mukherjee; her cousins Rani Mukerji, Sharbani Mukherjee and Mohnish Behl are also part of the industry. Her aunt Nutan, grandmother Shobhna Samarth and great grandmother Rattan Bai have all been influential figures in the Bollywood film industry. Her younger sister Tanisha recently started a film career. Kajol is married to actor Ajay Devgan. Her uncles are Joy Mukherjee and Deb Mukherjee.
Kajol's paternal grandfather Sashadhar Mukherjee was a film director and producer who had left a great achievement in the Bombay film industry. His wife Satirani Devi, Kajol's grandmother was the sister of three great film personality Ashok Kumar, Anoop Kumar and Kishore Kumar. Kajol is of Bengali-Marathi descent.
She left school and started her career at the age of sixteen. Her debut film was Bekhudi in 1992.
By industry standard, Kajol has not appeared in many movies since her debut. From 1992 to 2006, she had acted in only twenty-six movies and had her share of flops, however some of her movies are some of Bollywood's most successful movies.
After the successful Kabhi Khushi Kabhie Gham in 2001, for which she bagged several Best Actress Awards, she took a break from acting for five years. During which time, she gave birth to her daughter Nysa. She only re-appeared on the screen for merely seconds in a special appearance in the movie Kal Ho Naa Ho in 2003. However, she made a comeback in the film Fanaa which released in May 2006, with a critically acclaimed performance.
Kajol is known for her screen chemistry with Shahrukh Khan. In fact, all five movies which starred them as a lead couple have become successful: Baazigar (1993), Karan Arjun (1994), Dilwale Dulhania Le Jayenge (1995), Kuch Kuch Hota Hai (1998) and Kabhi Khushi Kabhie Gham (2001).
She is the first female actor to win the Filmfare Best Villain Award, for her performance in Gupt: The Hidden Truth (1997). She is also the first actor to receive the same award for the same film from the Zee Cine Awards in 1998.
She has also appeared on the TV show Kaun Banega Crorepati (the Indian version of Who wants to be a millionaire?) hosted by Amitabh Bachchan. She was paired with her husband Ajay Devgan. They won 1 crore (10 million) rupees and donated them to a cancer hospital in Chennai. Also, she has appeared on Indian Idol, seasons one and two, as a guest judge.
Kajol married actor Ajay Devgan on February 24, 1999. She is the mother of a baby girl, Nysa, who was born in April 2003.