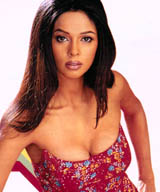 Mallika Sherawat
A.k.a / common misspelling: Malika Sherawat
IMDB page: http://www.imdb.com/name/nm1324246
Wikipedia page: http://en.wikipedia.org/wiki/Mallika_Sherawat
Occupation : Actress

Birth Date : 24 October, 1981

Birth place : Rohtak,Haryana

Height : 5' 6

Hair Color : Black

Marital Status : Divorced

Languages : Hindi, English

Spouse : Captain Karan Singh Gill - Jet Airways pilot

Debut Film : Jeena Sirf Merre Liye
Mallika Sherawat (born October 24, 1976 as Reema Lamba in Rohtak, Haryana, India) is an Indian actress and model who is considered to be a youth icon in the Indian film industry. She has a degree in philosophy from Miranda House, Delhi University.
Sherawat's birth name is Reema Lamba; she adopted the screen name of "Mallika", meaning "queen", to avoid confusion with other actresses named Reema. "Sherawat" is her mother's maiden name. She uses her mother's name as a tribute to her mother's love and support.
Mallika Sherawat's decision of coming in films is still diffcult to digest for her father. He has not forgiven her. But her brother supports her from starting. She believes his support is her strength. She came from a bejewelled prisoner in a haryana haveli and has opted for the bollywood lanes.
Initially an air-hostess, she married and divorced Karan Singh Gill, a pilot.
She first featured in a music video sung by surjit bindrakhiya along with Ishita Arun.
Mallika became popular for her show of skin and several kisses in her movie Khwahish (2003) which was, by Indian standards quite scandalous, as it featured seventeen on-screen kisses. Later that year, she starred in Murder, again a film that raised eyebrows, since she showed a lot of skin. She was nominated in the 'Best Actress' category in the Zee Cine Awards, for her part in Murder. She has also been in the news for a short appearance in a Jackie Chan film, The Myth. She appeared at the Cannes film festival in a revealing outfit as part of the publicity for the film.
In July 2004, the Bollywood film producers' union IMPAA temporarily blacklisted Mallika. Filmmaker Ramesh Sharma complained that she had committed a breach of contract when she failed to turn up, as promised, for the filming of Kab Kyun Kahan (started in 1999).
Mallika, who has earned her reputation by shocking the Indian middle class, was the first Indian woman to get an offer to pose nude for Playboy magazine. She turned down the offer, citing her morals and upbringing