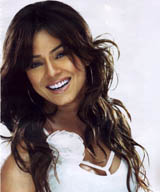 Mahima Chaudhary
A.k.a / common misspelling: Mahima Choudhary
Wikipedia page: http://en.wikipedia.org/wiki/Mahima_Chaudhry
Occupation : Actress, Model

Birth Date : 13 September, 1973

Birth Place : Kelowna, British Columbia, Canada

Zodiac Sign : Virgo

Height : 5' 3

Hair Color : Black

Original Name : Ritu Chaudhary

Education : Parle College, Bombay, India

Marital Status : Single

Languages : Hindi, English

Brother(s) : Siddharth

Sister(s) : Akansha

Debut Film : Pardes

Address : D/5 4th Floor, Silver View, Versova, Andher, Mumbai 400 061


Mahima Chaudhry was a model before she became an actress. She was overshadowed by Aishwarya Rai in a Pepsi commercial.
Her first breakthrough performance where she won rave reviews was Pardes (1997) as Ganga, the love interest of two men, Shahrukh Khan and Apoorva Agnihotri. She was chosen to be the female lead among 3000 applicants who auditioned for Pardes (1997). Her career was launched by Subhash Ghai who launched the career of Madhuri Dixit and Manisha Koirala. She changed her name from "Ritu Chaudhary" to "Mahima Chaudhary" since Subhash Ghai has a superstitious belief of launching big careers with actresses whose name start with M. She won rave review for her first performance in Pardes (1997) as a village girl who still values her cultures.
Unlike most top actresses in India, she didn't mind playing second fiddle in films (example: Dhadkan (2000), Dil Kya Kare (1999)). Apart from her role in Pardes (1997), she also won acclaims on her role as Kavita, the loving wife of Ajay Devgan in Dil Kya Kare (1999). She was nominated in Filmfare Awards for that role.She was dating Leander Paes, the popular Indian tennis player. Mahima left Leander after he was linked with Rhea Pillai (ex-wife of Sanjay Dutt).