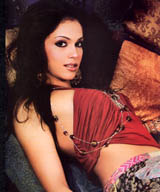 Isha Koppikar
A.k.a / common misspelling: Esha Kopikar
IMDB page: http://www.imdb.com/name/nm0465929
Wikipedia page: http://en.wikipedia.org/wiki/Isha_Koppikar
Occupation : Actress

Birth Date : 1976

Birth Place : Mumbai

Height : 5' 7

Hair Color : Black

Commonly Known Name : Khallas Girl

Education : Graduation in Bio Technology from from Bombay University

Marital Status : Single

Languages : Hindi, English

Brother(s) : 1 brother

Debut Film : Kaadhal Kavidai


Known in the industry as the 'Khallas girl', Isha Koppikar shot to fame with her song number in Ram Gopal Verma's movie Company. She is 5'7", tall, beautiful and talented girl born in 1976. Isha's performance in Company mezmerised movie goers.
She had actually started her glamour career with modelling. Modelling assignments trickled in after she did a photo shoot with 'Gautam Rajyadhyaksha' when she was still in junior college. But that was just the beginning. She had done modelling for 'Deepam sarees', 'Ponds', 'Camay', 'Rexona', 'Synergy', 'Coke', 'L'Oreal' and 'Tips & Toes'. She also did five or six ramp shows. But in 1995 at the Miss India 1995 contest, she won the "Miss Talent crown".
Coming from a family of academics, she first finish her degree in Life Sciences in Ruia College, Mumbai. After that her first film was in Tamil, En Swasa Katre. She was cast opposite 'Arvind Swamy', who was at the peak of his fame at that time. The film got rave reviews and she was expected to be a big hit in the south.
Though her work was in the South, her heart was set on making a name for herself in Mumbai. Koppikar starred in some minor roles in Fiza (2000) and Pyaar Ishq aur Mohabbat (2001) until in 2002, she starred in Ram Gopal Varmas Company as an Item girl in the song Khallas!, which created her nickname Khallas-girl and caused her breakthrough.
In Dil Ka Rishta she played opposite Aishwarya Rai and Arjun Rampal and for her negative role in Qayamat: City Under Threat (2003), she received a Filmfare Award nomination for Best Villain. In the movie Girlfriend (2004), she plays a woman involved in a lesbian relationship and in D (2004), she again worked with Ram Gopal Varma in the prequel of his movie Company.
Recently, she played Arshad Warsi's girlfriend in the Salman Khan starrer Maine Pyar Kyun Kiya?. She is now filming for Farhan Akhtar's Don alongside Shahrukh Khan and will feature as the female lead in Ram Gopal Varma's Shabri (2006), a movie about a woman who is set to become Mumbai's first underworld lord. Koppikar's make-up is so convincing that security and producers wouldn't let her enter the set, as they didn't recognize her