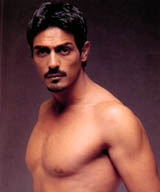 Arjun Rampal
A.k.a / common misspelling: Arjun Ramapal
IMDB page: http://www.imdb.com/name/nm0992000
Wikipedia page: http://en.wikipedia.org/wiki/Arjun_Rampal
Occupation : Actor, Model

Birth Date : 26 November 1972

Sign : Sagittarius

Height : 6.2 feet or 1.87 m

Weight : 85 kg

Religion :Hindu

City : Jabalpur

Country : India

Mother : Gwen

Father : Amarjeet

Children : daughters Mahikaa and Myra

Marital status : married

Spouse : model Mehr Jessia

Favorite food : sushi

Favorite clothes : Track pants and T-shirts

Favorite color: black and blue

Other facts : was discovered in a disco by designer Rohit Bal

Hobbies : playing cricket on the computer, watching films

Languages: hindi

Debut film : Pyaar Ishq Aur Mohabbat

Address : 104 Hill Post, Shirley Rajan Road, Opp. Stringfield High School, Bandra Mumbai 400 050


Society's Face of the year - 1994 most successful super model and 6'2" tall. Arjun Rampal was born on November 26th. He was discovered in a discotheque by ace designer Rohit Bal. His cute chiseled face makes him a great hit with women. Now Arjun concentrating more on movies.
Pyaar Ishq Aur Mohabbat was Arjun's forgettable debut vehicle and his presence went noticed. Following up with Deewanapan, Moksh etc movies with opposite popular bollywood actresses Manisha Koirala and Diya Mirza and others.
Marriage happened to him with Miss India super model Mehr Jessia at the right time and marriage has had positive effect on his life.
In 2002 he won the Award of the International Indian Film Academy for Face of the Year.
Since his debut, he has worked steadily in films such as Aankhen (2002), Dil Hai Tumhaara, Yakeen (2005) and Darna Zaroori Hai (2006) none of which have been successful at the box office.
He has also appeared in the Temptations 2004 concert with stars Shahrukh Khan, Rani Mukerji, Saif Ali Khan, Preity Zinta, and Priyanka Chopra.
His recent film release was the multi-starrer Kabhi Alvida Naa Kehna where he had a guest appearance. His forthcoming film is Don - The Chase Begins Again which is a remake of the 1978 Amitabh Bachchan starrer Don. Rampal will play the role of Jasjit which was played by Pran in the original.
Reccently. he has decided to go behind the camera to make the film "I See You", starring Shahrukh Khan and Hrithik Roshan
He describes himself as Cool and casual. He wear clothes that are cool. He is not particular of brands but buy a lot of designer stuff. His suits and shirt are of Armani. He is having 80 pairs of sun glasses. He is very weight conscious and always into fitness. His hair cut changes from film to film according to the character he portray in films. He love his family very much they are always a priority for him. He is having a daughter also.