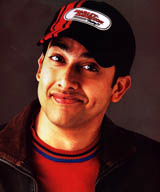 Aftab Shivdasani
A.k.a / common misspelling: Aftab Shivdsani
IMDB page: http://www.imdb.com/name/nm0012778
Wikipedia page: http://en.wikipedia.org/wiki/Aaftab_Shivdasani
Occupation : Actor

Birth Date : 25, June, 1978

Height : 5'11"


His young and spirited portrayal in the Coke and Nestle Bar-one ads caught the creative eye of Ramgopal Varma who needed the same innocent character for his movie, 'Mast'.
This was not his first exposure to the arc lights though; he is originally a Shekhar Kapoor find as a child artiste who debuted as a young boy in Mr. India. As a child artist he was seen in movies including Shahenshah, ChaalBaaz, C.I.D and Insaniyat before Mast came his way.
Then came Vikram Bhatt's Kasoor, where he played the dark character of Shekhar Saxena Hugely appreciated for his role, Aftab was seen in movies including Love Ke Liye Kuchh Bhi Karega, Pyaar Ishq Aur Mohabbat, Kya Yehi Pyaar Hai and Koi Mere Dil Se Poochhe. But his real hits came with the comedies, Awara Paagal Deewana (2002) and Hungama (2003) and the biggest hit of his career was 'Masti' where he was seen with Vivek Oberoi and Ritesh Deshmukh, where the three men, in a wish to spice up their love lives, find themselves stumbling upon the most comic situations.
Aftab's forthcoming releases include Mazhab: The religion, and Darwaza Band Rakhna.