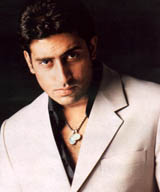 Abhishek Bachchan
A.k.a / common misspelling: Abhishek Bacchan
IMDB page: http://www.imdb.com/name/nm0045393
Wikipedia page: http://en.wikipedia.org/wiki/Abhishek_Bachchan
Occupation : Actor

Birth Date : 5th Febuary 1976

Height: 6'1"

Eyes: Black

Hair: Black

Schooling: He began at Bombay Scottish School; continued at Jamnabhai and finished studying at Aiglon School in Switzerland

College: Boston University

Star Sign: Aquarius, Feb.5

Pet Name: I'm not going to tell you

Weight: 75 Kgs

Favourite Perfume: Eternity

Favourite Food: Anything Indian

Favourite Holiday Spot: My home

Philosophy of life: Whatever you do, do it from the heart

My weakness: Animals and birds

Languages known: English, Hindi, French

Something about yourself you would like to change: Maybe my physique

Dream Role: Agnipath

Director you would like to work with: Whoever wants to work with me

Favourite Directors: Manmohan Desai and all those who can complete a film successfully

Best compliment paid by a woman: My mother and sister are the only women who've complimented me

What the critics say: I have a bad voice, my diction is not right and my eyes lack intensity

Favourite Co-stars: Kareena, Keerthi Reddy and Aishwarya Rai

Father :Amitabh Bachchan

Mother : Jaya Bachchan

Address : Pratiksha, 10th Rd, J.V.P.D. Scheme, Mumbai 400 049


Abhishek Bachchan was born on February 5th 1976 in Mumbai to actor Amitabh Bachchan and actress mom Jaya Bachchan. Abhishek has an older sister Shweta Bachchan. Abhishek attended Bombay Scottish School in Mumbai and later moved on to Aiglon College, a British International boarding School in Switzerland. Abhishek later joined Boston University for his under graduate degree.
Bollywood calling led Abhishek to be a dropout and head to Mumbai to try his fate in movies. Abhishek signed JP Dutta's 'Refugee' as his debut movie opposite Kareena Kapoor; the movie did average, but Abhishek did make his mark as an actor and was appreciated for his performance. Although Abhishek had a great start, he had his bit of struggle keeping up to the expectations as his movies kept bombing at the box-office. Abhishek got romantically linked to actress Karishma Kapoor; the two were even engaged to get married, but they had a fallout and Karishma went ahead and got married in the famous Nanda family in Delhi.
After 14 flops and 4 years of his career, Abhishek finally tasted success with Yash Chopra's 'Dhoom' which finally ended his jinx. 'Dhoom' followed by 'Sarkar' and 'Bunty Aur Babli' consolidated Abhishek's career, who finally acquired the superstar status. Abhishek endorses brands like Ford Motors, LG Appliances and Motorola in India. Abhishek is regarded as the country's biggest superstar in the making and he dreams of becoming as big as his father.