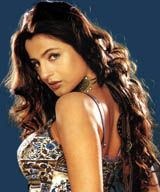 Amisha Patel
A.k.a / common misspelling: Aamisha Patel
IMDB page: http://www.imdb.com/name/nm0665349
Wikipedia page: http://en.wikipedia.org/wiki/Amisha_Patel
Occupation : Actress

Birth Date : 9 June, 1979

Birth Place : Bombay

Zodiac Sign : Gemini

Height : 5' 4

Eye Color : Black

Hair Color : Black

Religion : Hindu

Education : Schooling from Cathedral High School and Graduation in Economics from Tufts University (Boston)

Marital Status : Single

Debut Film : Kaho Naa... Pyaar Hai

Languages : Hindi, English

Address : C/o. Jai Electronic Ind. P. Ltd., 110/111, Parekh Market, Opera House, Mumbai - 400 004.


Amisha whenever she hits a low, she bounced back with one major hit that saved her the blues. Be it Gadar or then Humraaz. Now she is reapeating this in the form of historical The Rising a Ketan Mehta and Aamir Khan's projects.
Amisha Patel was born on 19th June 1979 in Mumbai. For studies she went to abroad. Determination has been one of her strengths. Even when she was in Standard IV, Amisha was sure that she wanted to be the head girl of the school. When she told her mother about it, she laughed it off. Amisha worked towards her goal by improving upon her academic record and by the time she reached Standard XII, she became one. While doing Economics in the United States, Amisha kept herself busy teaching classical dance in her free time.
She did join a financial company but a regular nine to five job couldn't hold her for long. She joined Satyadev Dubey's theatre group and started doing plays after convincing her parents a process that took a year. Armed with a foreign degree and an ultra respectable family background Amisha Patel was to be the CEO of the family business. Fate have something to do with her. Director Rakesh Roshan had already signed Kareena Kapoor opposite his son and had even started shooting with her. When that association did not work out Roshan remembered his fascination with his school friend Amit Patel's limpid-eyed daughter at a sangeet celebration. Rakesh Roshan even remarked that if he ever made a film with his son he would take her as a heroine. And this way she got her debut film Kaho Naa Pyar Hai. After that she had given other hits also like Gadar, Humraaz. In 2003 she had a Parwane which was a flop.
Amisha Patel believe what is in destiny no one can take away from you. She replaced Priyanka Chopra in Humraaz. In her debut film 'KNPH' she replaced Kareena Kapoor.
Amisha Patel has the best collection of bags and belts in tinselville. Whenever she goes abroad she shops for expensive accessories. Her collection includes from Louis Vuitton, Salvotore Feragamo, Christian Dior, Gucci and Versace.
She also worked in Vikram Bhatt's Elaan in which she played a journalist. The Rising for which she thrilled to work with Aamir Khan. She played an innocent bengali girl, Jwala who gone through a devastating time before a Britisher comes into her life.
She was raised by her grandmother Nani. She grew up speaking three Indian dialects, Hindi, Gujrati and Marathi -- sometimes in the same sentence. She is said to have a strained relationship with her parents and brother, Ashmit Patel. She is romantically related to Bollywood director Vikram Bhatt.