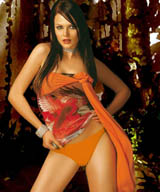 Yana Gupta
A.k.a / common misspelling: Yaina Gupta
IMDB page: http://www.imdb.com/name/nm1318999
Wikipedia page: http://en.wikipedia.org/wiki/Yana_Gupta
Occupation : Actress, Model


Yana Gupta was born in Czechoslovakia (now the Czech Republic) and began modelling in the mid 1990's at the age of 16. Her real name is Yana Synkova which she changed after marriage. She married to Satya Gupta a Pune based artist and her career took a turns toward the east. In 2001 she was named as the new face for 'Lakme cosmetics in India', replacing former Lakme model Lisa Ray. Yana, who's been modelling since the age of 16, worked in Milan, Paris and Vienna, even working on brands like Nivea and Shiseido before settling India, where her husband is based.
Yana first appeared on big screen to fame with the 'Bijli' number in Dum.She has done three music videos for Shail and Merlin and Jalwa. Although Yana Gupta has been getting acting offers from Bollywood, the stunning Czech beauty is sticking to what she does the best 'song and dance'.
Director Sanjay Gupta has roped in Yana to do a hot sizzling item number in his forthcoming movie titled Musafir. Musafir, which stars Gupta's buddy Sanjay Dutt, Sunil Shetty, Anil Kapoor, Mahesh Manjrekar and Priyanka Chopra, is about mature romance and will also have a little bit of exposure. She has shot for a song with Sanjay Dutt for Sunil Shetty's Rakth and currently has six item numbers in her kitty.
It seems that Yana is only interested in bump-grind act and does not want to graduate to full-fledged roles in films. She knows her strengths and weaknesses quite well. Yana admits that acting isn't her cup of tea. She knows that she neither has the histrionic skills nor the command over Hindi language. Therefore the Bijli would like to stick to her forte that is raunchy item numbers.
She is perfect for dance numbers because of her uninhibited jigs and nimble footed flair. Moreover, the svelte belle doesn't mind exposing, although within decent limits.