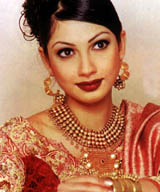 Yukta Mukhi
A.k.a / common misspelling: Yukta Mookhi
Occupation : Actress, Model

Birth Date: 1977

Birth Place : Mumbai

Height : 5'11"

Address : 1103/B Sky Pan Oberoi Complex, Near SAB TV Office Off Link Road, Near Laxmi Industrial Estate, Andheri (W) Mumbai 400 053


The Miss World '99, 5 feet 11 inches tall Yukta Mookhey was born in 1977 to Mrs.Aruna and Mr.Inderlal. Yukta's mother Aruna runs a grooming workshop, Swiss Chalet, at Santa Cruz here while her father Inderlal is the managing director of Ragz Clothing Company.
A third year student of zoology at Mumbai's Kelkar College, Yukta has also won a number of essay and public speaking competitions and is looking to a career in mass communications and computer graphics.
Yukta Mookhey wins the Miss World '99 crown and sets a record. Three Indian Miss World in the past one decade. This dark haired 20-year-old from Mumbai was chosen Miss World 1999 over 93 other contestants. Yukta wins $100,000 and a year of travel around the world. Mookhey, who hails from Mumbai, was chosen for the title from among 94 hopefuls in a keenly-contested pageant which saw Miss Venezuela Martina Thorogood and Miss South Africa Sonia Raciti win the second and third places respectively.
The tall and svelte who studied Hindustani classical music for three years mentions in a pre-Miss World biodata that she wants to pursue a career in mass communication and computer graphics. She likes prawns in garlic sauce, adores Brad Pitt and admires Jane Austen.
She made her debut in a film Pyaasa opposite Aftab Shivdasani. But the film was a flop. It was released also after a long time, many controversy were their.