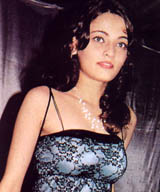 Sneha Ullal
A.k.a / common misspelling: Sneha Ulal
IMDB page: http://www.imdb.com/name/nm1840780
Wikipedia page: http://en.wikipedia.org/wiki/Sneha_Ullal
Occupation : Actress

Birth Date : 1987

Birth Place : Muscat, Sultanate of Oman

E-mail : snehaputi@gmail.com

Debut Film : Lucky


Sneha Ullal was born on born 1987 is a Bollywood film actress.
Sneha Ullal, a Mangalorean born in Muscat, Sultanate of Oman, is a Bollywood actress of Indian origin and Hindu. She rose to stardom with her first movie Lucky opposite Salman Khan, who discovered her. She went to MMK College, Mumbai, with Khan's younger sister Arpita, who told her brother about her uncanny resemblance to Aiswarya Rai. Indian media shot her to fame for her performance in Lucky. She attended Durelo Convent High School in the suburbs of Bandra.
Her first film, Lucky, was a small hit. Sneha has recently starred in a new project: Aryan with co-star Sohail Khan, who is Salman Khan's younger brother. The movie will hit theaters in late Ap.