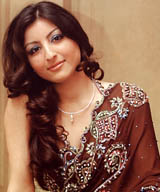 Soha Ali Khan
A.k.a / common misspelling: Sohali Khan
IMDB page: http://www.imdb.com/name/nm1675786
Wikipedia page: http://en.wikipedia.org/wiki/Soha_Ali_Khan
Occupation : Actress

Birth DAte : 4 October 1978

Birth Place : New Delhi

Zodiac : Leo

Mother : Sharmila Tagore

Father : Mansur Ali Khan Pataudi

Brother: Saif Ali Khan

Marital status : single

Education : British School, graduate at Oxford, master's at London School of Economics in International Relations

Likes : sports and theatre

Other facts : she prefers staying alone in Mumbai, managing her own affairs

Debut Film : Iti Srikanta

Languages : bengali, hindi, english


Soha Ali Khan's mom, dad and brother are superfamous celebrities. She's the daughter of "Sharmila Tagore" famous hindi actress of 60's and 70's and "Tiger Pataudi" well known Indian cricketer. And Saif Ali Khan's sister. And now it's time for this talented and stunning girl to make a mark.
Soha made her acting debut with the Bollywood production Dil Maange More (2004), where she shared credits with Shahid Kapoor and two other leading ladies which were Tulip Joshi from Mere Yaar Ki Shaadi Hai fame and Ayesha Takia which was her third film when Socha Na Tha was her very first film debut opposite Abhay Deol. Starting off weakly, she has since received critical acclaim for her performances in the Bengali film Antar Mahal (2005) and Rang De Basanti (2006).
Before embarking upon her film career, Soha worked for the Ford Foundation and Citibank. She is involved in a range of activities outside the acting world, including serving on the Advisory Board for a new project of the public entrepreneur group, Res Publica. She has also recently modeled for the spring-summer collection of Globus, an Indian chain of boutiques
She was born in mumbai and at the age of six shifted to delhi. She studied at british School and use to study hard to get good marks. She enjoyed sports and theatre. Then she did her under graduate at Oxford and master's at London School of Economics in International Relations. Studying abroad has given her international outlook and understand and be tolerant towards other cultures.
She has been brought up in liberal way, where ever to travel, think and have friends she wants. She was quite a hyperactive child. Very friendly and outgoing always running from one place to another. But never bothered about appearances. She didn't wear too much jewellery nor was colour coordinated.
While studying she know exactly that she wanted to be in films in terms of career. She know if started acting before accomplishing her academy, then it wouldn't be possible for her to go back to studying. Her parents had the typical normal parental concerns about joining the films. When she was 12, she meant to play the child in Mira Nair's Mississippi Masala and taken two months leave from school also. But couldn't do the film because she had to get braces.
She had also worked with Citibank and an NGO to get experience which help her when she finally starts acting.