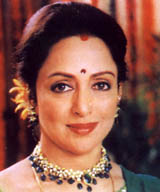 Hema Malini
A.k.a / common misspelling: Hema Maline
IMDB page: http://www.imdb.com/name/nm0004564
Wikipedia page: http://en.wikipedia.org/wiki/Hema_Malini
Occupation : Actress

Birth Date : October 16, 1948

Birth Place : Ammankudi, Tamil Nadu, India

Mother : Jaya Chakravarthy

Spoude : Dharmendra

Daughter : Esha Deol, Ahana Deol


Hema Malini was the second South Indian actress after Vyjayantimala to be a major Hindi film star. At her peak she wielded such strong commercial films, that actors like Dev Anand and Rajesh Khanna had to turn to her to give them that much wanted hit. When Dev Anand's films in the 70s particularly those with Zeenat Aman crashed, Amir Garib in 1974 with Hema Malini was a hit. When Rajesh Khanna's films started sinking, her Prem Nagar in 1974 with her gave him a new lease of life albeit temporarily.
Her career almost ended before it began. Her first director Shridhar threw her out of a Tamil film he was directing in 1964, saying she had no star appeal! Hema resolved she would make it big where it mattered the most - Bollywood.
She debut opposite Raj Kapoor in Sapnon ka Saudagar in 1968 where the posters splashed her picture with the catch phrase - 'Dreamgirl.' The film flopped but Hema survived. She became a top star Johnny Mera Naam in 1970 and with Seeta aur Geeta in 1972 she was the top female star in Bollywood. A string of successful films particularly opposite Dharmendra Raja Jani in 1972, Jugnu in 1973, Sholay in 1975 followed Hema's career higher and higher.
Though Critics have dismissed her as a one-note actress, to be fair to her she did occasionally show that she could give a performance of some depth were she directed properly. As Raj Kumar's scheming mistress in Lal Pathar in 1971, she not only made the audience empathize with her negative character but also stole a march over no less an actress than Rakhee. She dared to play a young widow in Andaaz in 1971, a role turned down by most actresses. She tried to change her glamorous image by working with Gulzar and did some of her best and perhaps most introspective work in his films - Khushboo in 1975, Kinara in 1977 and Meera in 1979.
Her Personel life was also very interesting both Jeetendra and Sanjeev Kumar proposed her for marriage but Dharmendra won her. She flouted convention by becoming his second wife but so strong was her morally upright image that she was able to go through the marriage without being slandered by press or public. She is having two daughters. Her first daughter Esha deol has joined the films now.
By the early to mid 80s her reign was coming to an end. She concentrated on her dance performances and turned to playing strong characters with feminist undertones on both film and TV in fact giving a finely modulated performance in Rihaee in 1988 as a woman who has an affair when her husband is away and has another man's child.
She has dabbled in other channels of film production having produced Swami in 1977, Sharara in 1984, Aawargi in 1987 and Marg in 1992 but unreleased besides directing Dil Aashna Hai in 1991 and Mohini in 1994 for Television.
She has done Hey Ram in 2000 but in a very small role. She has also directed TV serials Noopur in 1990 and Women of India in 1996. Hema Malini was awarded the Padma Bhushan in 1999 for her contribution to Indian Cinema.
In 2003 Hema Malini has done a film with Amitabh Bachchan, Baghban. Its was a Hit. Out of 5 best films of 2003 Baghban is 1 out of them. Hema Malini looks much better than mosy of today's top heroines and is the highlight of the movie. The chemistry between Amitabh and Hema is amazing. Amitabh Bachchan and Hema Malini played a loving middle aged couple who are forced to live separately with their two sons in different cities. They have four children who refuse to take care of their parents.