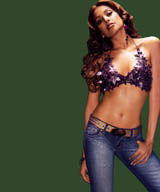 Bipasha Basu
A.k.a / common misspelling: Bipasa Basu
IMDB page: http://www.imdb.com/name/nm0060607
Wikipedia page: http://en.wikipedia.org/wiki/Bipasha_Basu
Occupation : Actress, Model

Birth Date : 5th May, 1979

Bust : 32"

Waist : 25"

Hips : 35"

Height : 5'8.5"

Hair Color : Black

Eye Color : Dark Brown

Address : 105/B, Ashiyana Estate, John Bapist Road, Bandra(w), Mumbai-50


This 5' 8" light-eyed, Kolkatta girl, came into the limelight when she won the famous Ford Supermodels Contest at the age of 17. Bipasha Basu was the second daughter in the family and her pet name was bonny. She also won the Tulips Miss Super Vivacious in the same contest.
This Bengali bombshell is bold enough to accept an unusual role in her debut films. Besides doing innumerable prestigious ads, Bips, as her friends call her, did the famous video 'Tu...' for Sonu Nigam's album, Kismat. Apart from modelling and acting her other hobbies include dancing, reading and helping her mother with interior designing.
she started her film career with 'Ajnabee' followed by Vikram Bhatt's 'Raaz' (2002) opposite Dino Morea in which her portrayal was greatly appreciated. In the same year she acted in a Telugu movie, 'Takkari Donga', opposite Mahesh Babu.
Next was an erotic thriller Jism (2003), where she handled the role of a sexy wife of an middle-aged industrialist very well. In this movie, her flair especially her superb body was fully utilized by the director Amit Saxena. This movie changed her image gave her a glamour-doll aura. She appeared glamorous in many films like 'Zameen' (2004), 'Footpath' (2004), 'Ishq Hai Tumse' (2004), 'Rudraksh' (2004) etc. But she proved that she can also handle intense lead roles with ease in 'Rakth' (2004).
In 2005, her list of sterling performances include films like 'No Entry', 'Barsaat', 'Shikhar' and 'Apaharan'. The year 2006 was also good for her. 'Phir Hera Pheri' and 'Darna Zaroori Hai' were movies that revealed her acting talent. Her performance in Madhur Bhandarkar's 'Corporate' , in which she played a sophisticated business executive, won her rave reviews.
Bips is now a leading contender for the top spot in Hindi films. This dazzling, attractive personality feels that her eyes are her strong feature. She is bold enough to accept unusual roles. She has been involved with co-actor and model Dino Morea and now her relationship with hot star John Abraham has often been in the news. It is widely speculated that they will end up getting married. Hardworking and talented, Bipasha deserves every bit of her success.