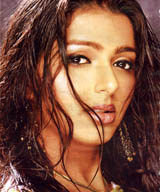 Bhumika Chawla
A.k.a / common misspelling: Bhoomika Chawla
IMDB page: http://www.imdb.com/name/nm0154653
Wikipedia page: http://en.wikipedia.org/wiki/Bhumika_Chawla
Occupation : Actress

Birth Date : 21st of August

Birth Place : India

Original Name : Rachna Chawla

Nick Name : Gudiya

Hair Color : Black

Marital Status : Single

Languages : Hindi, English

Mother's Name : Bali Chawla

Boyfriend : yoga teacher Bharat Thakur

Debut Film : Yuvakudu


Bhoomika Chawla was born on 21st of August.She has completed her schooling in delhi. Her father and Elder brother are in Defence Service. Elder sister got married. She is the youngest of the family and living with her mother, currently. She moved to Mumbai in 1997 and started her career with ad films and Hindi music video albums.
Her first film Yuvakudu in Telugu was released in the year 2000. Her second film Khushi with Pavan Kalyan was a super hit in Telugu. She got the 'Best Actress Award' for the film Kushi in Telugu. Since then she hasn't looked back. She has so far done five films in Telugu and two in Tamil.
Bhoomika has no airs about her newly attained stardom. She's simple, yet elegant. With her graceful movements, warm smile and a great blockbuster movie to her credit, Bhoomika has carved a niche for herself in the hearts of many. As a bright faced college girl, she caught the attention of ad film-makers in Mumbai. Her campaign for Ponds powder became so popular, that inevitably the film offers followed.
She feels glad that she had started her career with ad films. It is there where she had learnt nuances of acting and expressions. She has debut in hindi films from Tere Naam in 2003 opposite Salman Khan. It was hit. After that her one more film released in this year(2004), Run opposite Abhishek Bachchan.
Bhoomika has been inevitably flooded with offers from both in tamil and telugu industry. Yet, contrary to the general grain, she has not jumped at them. Instead, she has decided to take things one at a time. 'I don't like to clutter my plate,' she says matter of factly. Her conviction is so deep-seated that she has refused a film with Manirathnam.
Bhoomika can afford to have such a laidback outlook because she does not see acting as a profession or a means to an end. For her, it is an interesting medium for communicating. She is into acting because she loves it. Critics saw in her performances, in Kushi and Tamil Badri and Rojakootam, a spark and spontaneity that even seasoned artistes find difficult to achieve. 'She is an absolute natural. Combine this with her beautiful looks, you have an actress who is bound to go places,' says a film critic.
She said her ambition is to win a National Award for Best Actress after winning the hearts of audiences, with the support and appreciation of colleagues of Cinema field. She is simple and enjoys what she is doing. Her only credo in life is, give your best and enjoy your work.