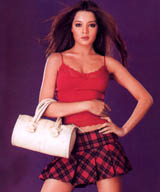 Celina Jaitley
A.k.a / common misspelling: Celina Jaitely
IMDB page: http://www.imdb.com/name/nm1380415
Wikipedia page: http://en.wikipedia.org/wiki/Celina_Jaitley
Occupation : Actress, Model

Birth Date : 9 June, 1981

Birth Place : Kabul, Afghanistan

Height : 5' 6

Hair Color: Black

Education : B Com graduate

Marital Status : Single

Languages : Hindi, English

Hobbies : Surfing the net, reading, sketching and listening to music

Mother's Name : Afghani

Debut Film : Janasheen


Celina Jaitely "Miss India 2001" is 21 years old 5 feet 6 inches tall from Kolkata. She also won the Miss Margo Beautiful skin, Inditimes Surfer's Choice and MTV's Most Wanted Awards. She hails from a military background where she had a normal and strict upbring.
Celina is a Business Communications graduate, best science student in junior high school. She has done few computer courses also. She is a model for Angora Watches, Mother Diary, Night Angel Perfume. She wanted to be a pilot. She won the most prestigious beauty contest in Bengal. Her favorite actors are Amitabh Bachchan and 'Whoopi Goldberg'.
Celina Jaitley´s debut in Bollywood is expected to be quite a dream debut when the movie is from the Feroz Khan camp. The movie titled Janasheen opposite Fardeen Khan. Her other film was Khel. So in the year 2003 Celina Jaitley set the screen on fire with her itcy bitsy acts in both 'Khel' and 'Jaanashaeen'. But both the films disappeared without a trace. Enough to dishearten for any newcomer but she is striving hard to create a place for herself. Her confident and cool manner makes her astrong contender for an actress in the reckoning.
'Janasheen' has given her an image of a sex symbol. More than her acting skills her bikini shots were talked.