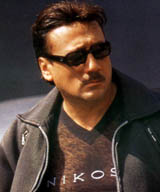 Jackie Shroff
A.k.a / common misspelling: Jacky Shroff
IMDB page: http://www.imdb.com/name/nm0006763
Wikipedia page: http://en.wikipedia.org/wiki/Jackie_Shroff
Occupation : Actor

Birth Date : 1 February, 1957

Birth Place : Mumbai

Zodiac Sign : Aquarius

Height : 6' 0

Hair Colo r: Black

Religion : Hindu

Marital Status : Married

Languages : Hindi, English

Hobbies : Swiming, Horse Riding, Cricket, Music, Cooking, Computer Games, Internet Surfing

Brother(s) : Hemant

Spouse : Ayesha Shroff

Debut Film : Hero

Address : Le Pepeyon, Mount Mary Road, Bandra, Mumbai 400 050


He's considered one of Bollywood's most affable stars. So much so, Jackie Shroff is open to fielding questions about everything under the sun including his take on the opposite sex, his own sexuality, his family life, his financial difficulties and then perhaps, his film career! This has been the story of his life, ever since Jackie graduated from being a small-time 'dada' at Teenbatti (in South Bombay) to a popular model, till finally, Dev Anand picked him up for a minor part in Swami Dada (1982).
Following which, Subhash Ghai picked him up for the part of an unkempt goon-turned-virtuous Hero (1983). This romantic musical co-starring Meenakshi Seshadri sent the cash registers ringing and promptly turned Jackie into the hottest newcomer on the block. Finally, it was Vidhu Vinod Chopra's Parinda that changed Jackie's 'wooden' image and even fetched him a 'Best Actor' Filmfare award! But Jackie displayed very little prudence in his selection of films and picked up just about anything that came his way (unlike Anil, who was always choosy). As a result, he registered more flops than hits many of them being B-grade projects.
In the meantime, the star had formed his own company, Jackie Shroff Entertainment Limited (JSEL) and produced a film called 'Grahan', which was directed by his friend, Shashilal Nair.
It is also heard that he's is now prepared to go back to doing what he started off with playing the villain. Given his easygoing disposition and 'nice guy' image, wonder how he's going to fit the bill. But who knows, he might just pull this gamble off too like he's done several times in the past.